Halloween Bundt Cake
Halloween Bundt Cake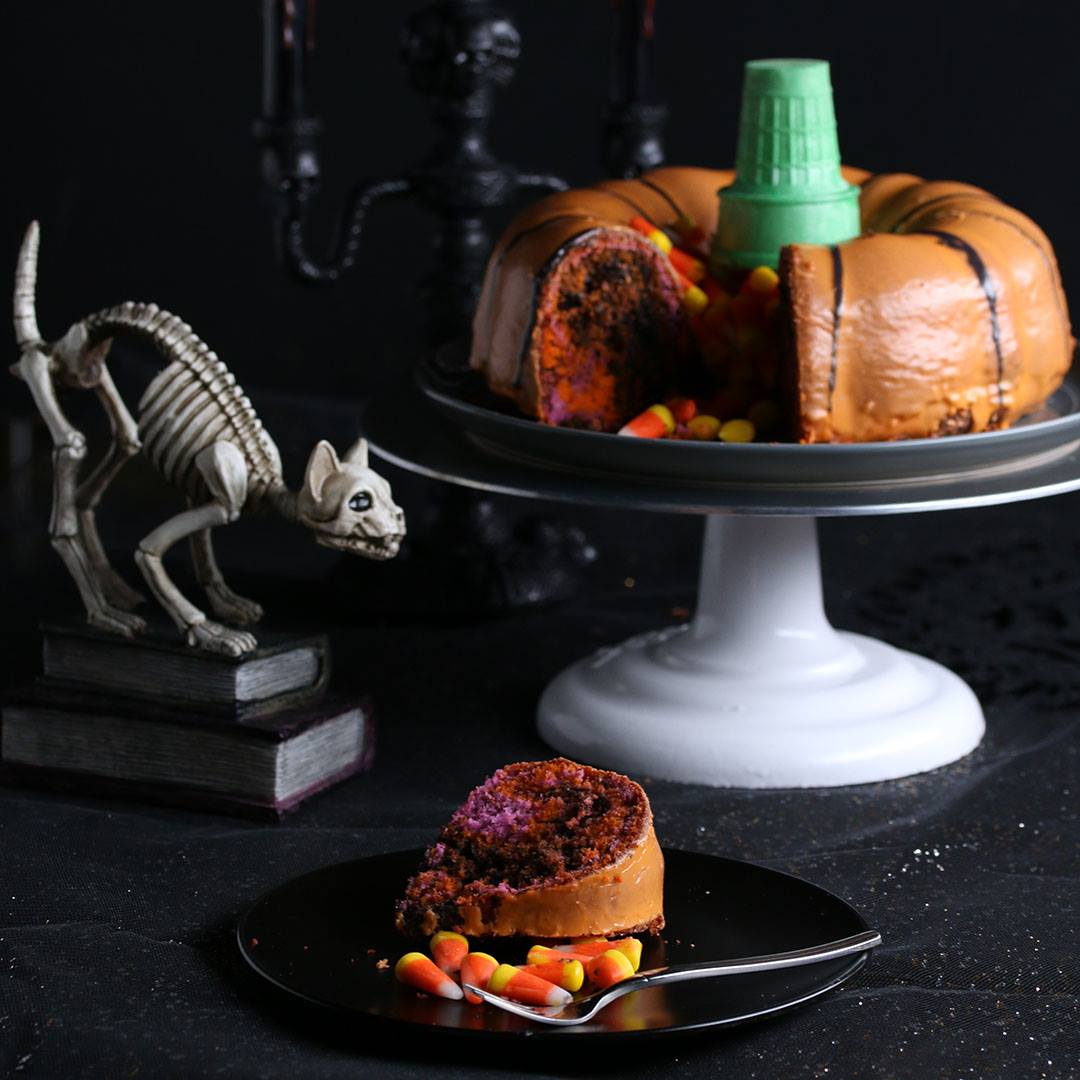 Ingredients
CAKE
1 ¾ cups granulated sugar (350 g)
2 teaspoons vanilla extract
1 teaspoon salt
3 large eggs
½ cup canola oil (120 mL)
2 ¼ cups all-purpose flour (280 g)
1 tablespoon baking powder
1 cup whole milk (240 g)
3 drops orange food coloring
3 drops purple food coloring
3 drops black food coloring
1 tablespoon cocoa powder
GLAZE
4 cups powdered sugar (480 g)
½ cup milk, or water (120 mL)
2 drops orange food coloring
2 drops black food coloring
FOR DECORATING
candy corn
1 ice cream sugar cones, green
Instructions
Preheat the oven to 350˚F (180˚C).
In a large bowl, combine the sugar, vanilla, salt, and eggs. Beat with an electric hand mixer for 2-3 minutes, until pale in color.
Add the canola oil and beat until incorporated.
In a medium bowl, mix together the flour and baking powder.
Add half of the flour to the egg mixture and beat until almost completely combined. Add half of the milk and beat to incorporate. Add the remaining flour and then the rest of the milk and beat just until no flour streaks remain.
Divide the batter between 3 medium bowls evenly. Add the orange food coloring to one bowl, the purple food coloring to another, and the black food coloring to the last. Sift the cocoa powder into the bowl with the black food coloring. Stir each batter well with a rubber spatula to combine.
Grease a bundt pan and add ½ cup (120 ml) of batter at a time, alternating between colors to create a marbled effect, until all of the batter is used.
Bake for 40-45 minutes, or until a toothpick inserted near the center of the cake comes out clean. Let cool before decorating.
To make the glaze, add the powdered sugar and milk to a large bowl and whisk until thick and smooth.
Transfer about 2 tablespoons of the glaze to a small bowl. Add orange food coloring to the large bowl of glaze and black food coloring to the small bowl. Mix well until the colors are smooth.
Pour the orange glaze over the cake, coating evenly. Let dry for 5 minutes, then use a spoon to drizzle lines of black glaze over the cake to look like pumpkin ridges.
Fill the center with candy corn and top with the green sugar cone as a "stem."
Enjoy!
Watch the recipe video here:
Bundt Cake that will be the star of any Halloween party. Get the recipe: https://tasty.co/recipe/halloween-bundt-cakeHave the ultimate Halloween with Nifty and Tasty, with new videos every Sat & Sunday!

Posted by Tasty on Sunday, October 14, 2018