Beef Stroganoff French Bread Toast
Why serve beef stroganoff with a side of French bread when it's so much tastier served inside the French bread?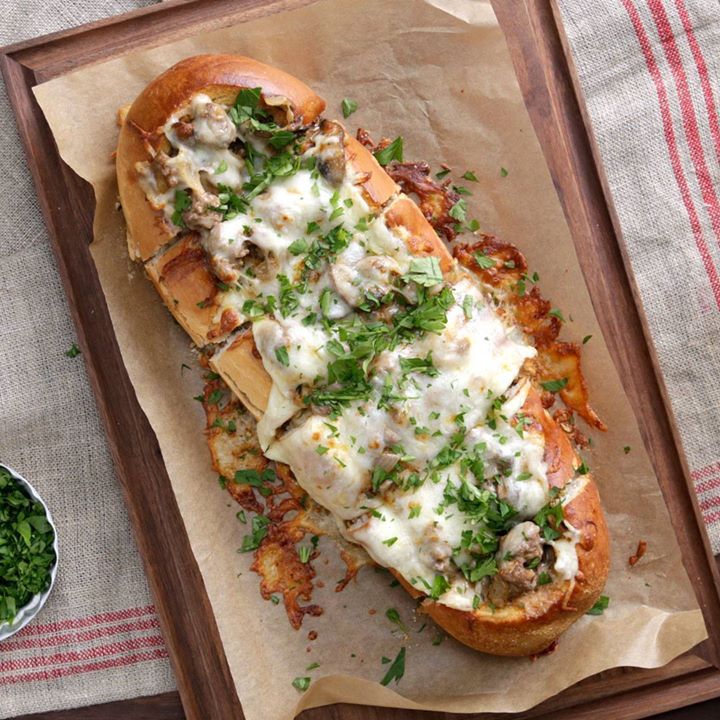 Ingredients
For the stroganoff:
4 tablespoons olive oil
1½ cups mushrooms
2 teaspoons salt, divided
½ teaspoon black pepper
2 tablespoons thyme
2 tablespoons butter
½ cup onions, diced
2 cloves garlic, minced
1 pound ground beef
3 tablespoons all-purpose flour
2 teaspoons paprika
1½ cups beef broth
½ cup sour cream
1 teaspoon Dijon mustard
For the toasts:
1 loaf French bread, insides hollowed out
2 cups mozzarella
3 tablespoons chopped Italian parsley
Instructions
Preheat oven to 350 degrees, and line a sheet pan with parchment paper.
Make the stroganoff:
In a large Dutch oven or skillet, heat olive oil over medium heat. Saute mushrooms with one teaspoon salt and black pepper. Add thyme. Cook mushrooms until golden, approximately 4 minutes. Remove from pan and set aside.
Add butter, onions and garlic to the pan and saute 2 minutes. Cook ground beef over medium heat until brown, approximately 4 minutes. Add flour and paprika to coat evenly. Add beef broth, sour cream and mustard. Mix thoroughly and add mushrooms back in.
Fill the hollowed out loaf with stroganoff and top with mozzarella cheese. Place on the prepared baking sheet, and bake for 5 to 10 minutes until cheese is golden and melted. Top with parsley, slice and serve immediately.
Watch the recipe video here:
If this bread boat don't float your boat, we can't be friends.Full Recipe: taste.md/2Dpe8fB

Posted by Tastemade on Sunday, January 14, 2018