Seedy Oat Crackers
This crackers recipe features a variety of seeds, and the combination of colors and textures is impressive, but you can use fewer types—just make sure you use chia seeds (they're not optional) and the total volume stays the same.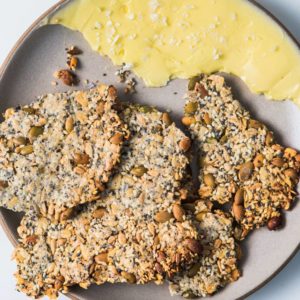 Ingredients
1 cup old-fashioned oats
¾ cup raw pumpkin seeds (pepitas)
⅓ cup raw sunflower seeds
⅓ cup sesame seeds
3 tablespoons chia seeds
3 tablespoons poppy seeds
1 teaspoon kosher salt
1 tablespoon plus 1 teaspoon vegetable oil
1 tablespoon pure maple syrup
Instructions
Preheat oven to 375°. Mix oats, pumpkin seeds, sunflower seeds, sesame seeds, chia seeds, poppy seeds, and salt in a large bowl. Stir oil, maple syrup, and ¾ cup room-temperature water in a medium bowl to combine. Pour liquid over oat mixture and toss until mixture is completely soaked. Let sit 10 minutes; mixture will absorb water and thicken.
Form oat mixture into a ball and transfer to a parchment-lined baking sheet. Press a second sheet of parchment paper directly on top and, using a rolling pin, flatten to ⅛" thick (the shape doesn't matter). Remove top layer of parchment.
Bake cracker until golden brown around edges, 15–20 minutes. Remove from oven and carefully turn out, parchment side up. Place a fresh sheet of parchment on baking sheet. Remove parchment from cracker, carefully turn cracker over, and return to baking sheet. Bake until firm and golden brown around edges, 15–20 minutes. Let cool on baking sheet, then break into pieces with your hands.
Do Ahead: Crackers can be made 1 week ahead. Store airtight at room temperature.
Watch the recipe video here: