Pull Apart Flauta Ring
Pull Apart Flauta Ring recipe.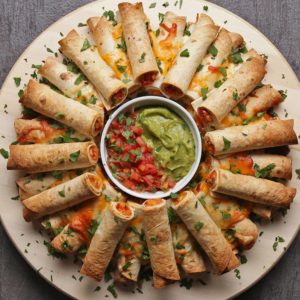 Ingredients
2 cups chicken, cooked, shredded (250 g)
1 large yellow onion, chopped
1 red bell pepper, seeded, chopped
1 jalepeno, seeded, chopped
2 cups shredded monterey jack cheese, divided (200 g)
2 cups shredded cheddar cheese, divided (200 g)
¼ cup lime juice (60 mL)
3 tablespoons taco seasoning
18 flour tortillas
fresh cilantro, chopped, for garnish
guacamole, for serving
salsa, for serving
Instructions
In a large bowl, combine the chicken, onion, red bell pepper, jalapeño, ½ cup (50 g) of Monterey Jack cheese, ½ cup (50 g) of cheddar cheese, the lime juice, and taco seasoning. Mix thoroughly.
Preheat the oven to 400˚F (200˚C). Line a baking sheet with parchment paper.
Place one of the tortillas on a cutting board. Scoop 2 tablespoons of the chicken mixture onto the bottom edge of the tortilla. Roll up the tortilla tightly, leaving the edges untucked, and cut in half crosswise. Repeat with the rest of the tortillas and filling.
Arrange the flautas in a circle on the baking sheet. Sprinkle with half of the remaining cheddar and Monterey Jack cheese. Place a second layer of flautas on top of the first so they are overlapping. Sprinkle with the rest of the cheese. Place the rest of the flautas on top for a third layer.
Bake for 30 minutes until golden brown and crisp.
Sprinkle with cilantro and serve immediately with guacamole and salsa for dipping.
Enjoy!
Watch the recipe video here:
This pull-apart flauta ring will be a show-stopper at your next party! ✨FULL RECIPE: https://tasty.co/recipe/pull-apart-flauta-ring

Posted by Tasty on Saturday, July 6, 2019