Chocolate Chip Lava Cookies
The perfect recipe when you're in urgent need of a little chocolate! ?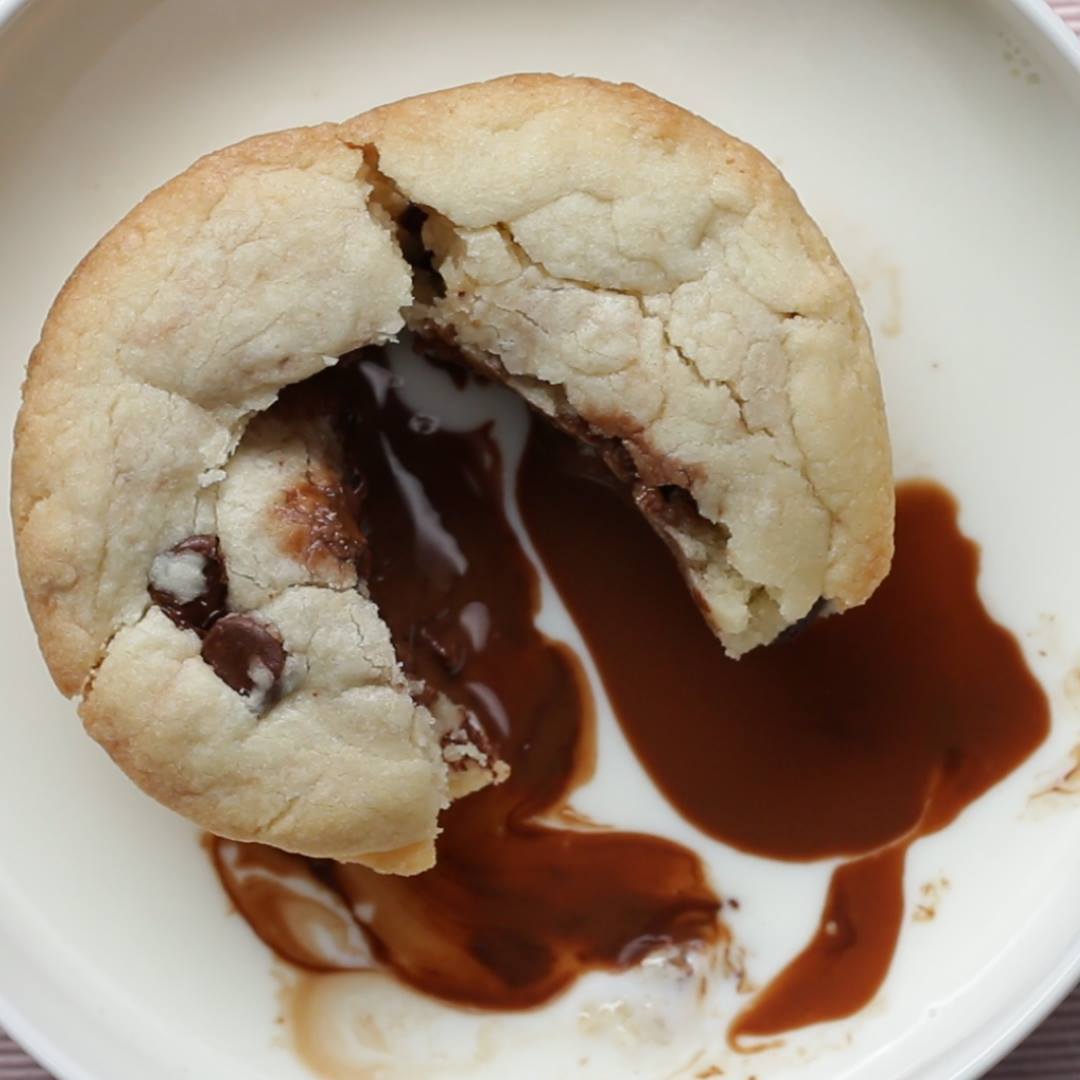 Ingredients
½ cup unsalted butter, 1 stick, softened (115 g)
1 teaspoon vanilla extract
1 tablespoon canola oil
½ cup granulated sugar (100 g)
1 pinch kosher salt
1 large egg
¼ cup cornstarch (30 g)
1 ½ cups all-purpose flour (190 g)
1 cup semi-sweet chocolate chips (175 g)
6 chocolate truffles
Instructions
In a large bowl, combine the butter, vanilla, canola oil, sugar, and salt and beat with a hand mixer until smooth.
Add the egg and mix until well incorporated.
Add the cornstarch, flour, and chocolate chips. Using a spatula, mix well until fully combined.
Cover the dough with plastic and chill in the fridge at least 30 minutes to overnight
Grease a 6-cup muffin tin with nonstick spray. Divide the cookie dough into 12 portions. Take one and line the base and sides of a cup. Repeat with the remaining cups.
Fill each cookie cup with a chocolate truffle.
Take another portion of cookie dough, flatten with your fingers to create a 2-inch (5-cm) circle. Place the circle over the top of the filling, and press down the edges to make sure it seals to the other dough. Repeat with the remaining cookies.
Chill in the fridge for 30 minutes.
Preheat the oven to 375˚F (190˚C).
Bake for 15 minutes or until the edges are golden brown. Remove from the oven until cool to the touch, for 5 minutes.
Enjoy!
Watch the recipe video here:
Muffin Tin Chocolate Chip Lava Cookies

The perfect recipe when you're in urgent need of a little chocolate! ? FULL RECIPE: https://tasty.co/recipe/chocolate-chip-lava-cookies

Posted by Tasty on Tuesday, October 30, 2018