Pecan Chewies
Pecans, brown sugar and butter makes for a chewy soft treat good anytime of the year.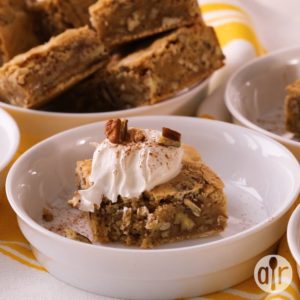 Ingredients
¾ cup butter
3 cups packed light brown sugar
3 eggs, beaten
1½ teaspoons vanilla extract
3 cups chopped pecans
3 cups self-rising flour
Instructions
Preheat the oven to 350 degrees F (175 degrees C). Grease a 9x13 inch pan, or for thinner bars, use a 10x15 inch jellyroll pan.
Melt butter in a saucepan over medium heat. Stir in brown sugar until smooth. Remove from heat and let cool slightly.
Stir the eggs and vanilla into the brown sugar and butter. Mix in the chopped pecans, and then the flour. Spread evenly in the prepared pan.
Bake for 25 minutes in the preheated oven, or until golden brown. Allow to cool before cutting into bars.
Watch the recipe video here: