Instant Pot Blueberry Almond French Toast Casserole
The plump blueberries burst in your mouth with every bite.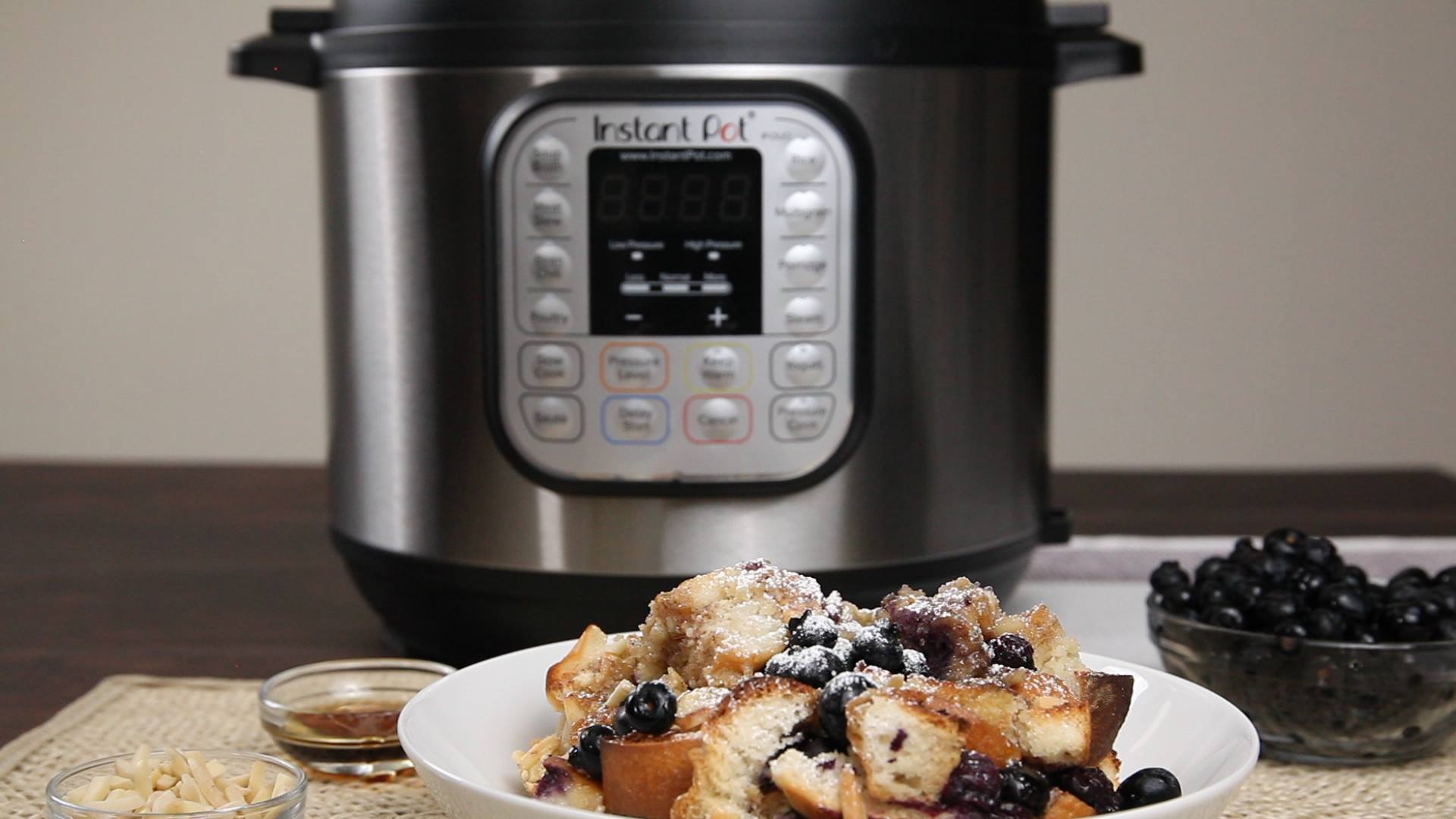 Ingredients
7 cups French bread, cut in 1-inch cubes
2 cups fresh blueberries
⅓ cup brown sugar
2 tbsp butter, sliced into 6-8 thin pieces
3 eggs, lightly beaten
¼ cup (2 oz) cream cheese, softened
¼ cup milk
1 tbsp sugar
1 tsp almond extract
½ tsp cinnamon
¼ tsp kosher salt
¼ cup slivered almonds, divided
Powdered sugar, maple syrup for serving
Instructions
Coat the inside of a 1.5-quart baking dish with non-stick spray. Layer blueberries, bread, and brown sugar. ensuring blueberries and sugar are evenly distributed throughout.
Sprinkle with half the slivered almonds and dot the butter evenly over the top.
In a large bowl, thoroughly whisk together the eggs, softened cream cheese, milk, sugar, almond extract, cinnamon, and salt. Pour over bread and blueberries, making sure all bread pieces are moistened.
Pour 1 cup of water in the Instant Pot and put in the trivet. Cover the baking dish lightly with foil (do not seal) and carefully set the baking dish on the trivet.
Secure the lid, making sure the vent is closed.
Using the display panel select the MANUAL function*. Use the +/- keys and program the Instant Pot for 25 minutes.
When the time is up quick-release the remaining pressure.
Carefully remove the baking dish from the pot, remove the foil and allow to rest for 5-10 minutes until set (or, optionally, set banking dish under the broiler until golden, 3-5 minutes).
Serve with remaining slivered almonds, powdered sugar, maple syrup, and additional blueberries, if desired.
Watch the recipe video here: