Cheddar Oven Fried Chicken
This cheddar oven-fried chicken is a dinner your kids will love! ?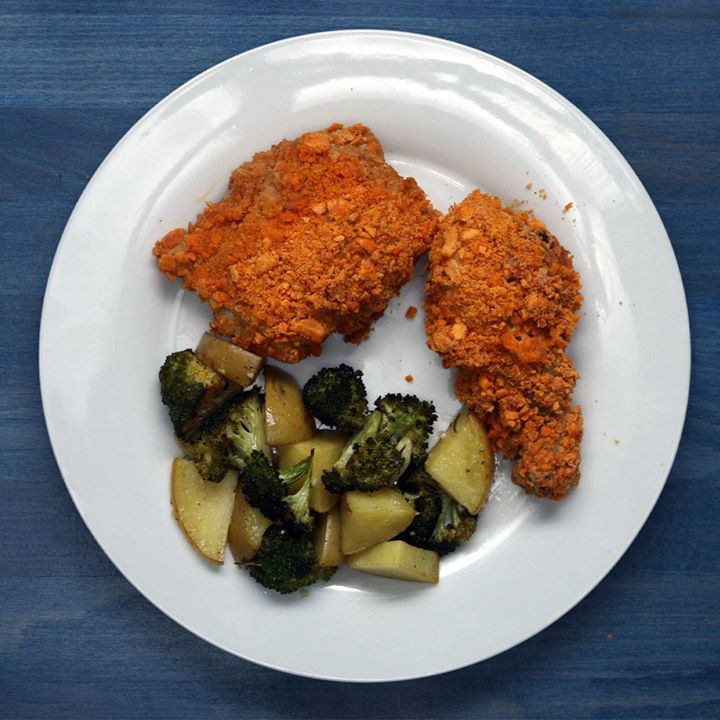 Ingredients
3 cups cheese cracker, crushed
¼ teaspoon pepper, optional
2 cups flour
5 egg, whisked
4 skin-on chicken drumstick
4 skin-on chicken thigh
3 cups broccoli floret
3 cups yukon potato, quartered
3 tablespoons olive oil
2 tablespoons fresh rosemary leaf, chopped
3 cloves garlic, minced
½ teaspoon salt
¼ teaspoon pepper
fresh parsley, for garnish
Instructions
Preheat oven to 425°F (220°C).
Place cheese crackers in a resealable bag and crush with a rolling pin until they become finely ground. Add pepper, if desired.
In a separate bowl, beat eggs until smooth.
Roll each chicken piece into flour and then coat into eggs.
Place each chicken piece in the cracker crumbs. Coat the chicken with the crumbs.
Arrange chicken pieces on a parchment-lined baking sheet.
In a medium bowl, combine broccoli and potatoes. Add olive oil, rosemary, garlic, salt and pepper. Toss until vegetables are well-coated.
Arrange vegetables on parchment-lined baking sheet.
Bake chicken and veggies for 35-40 minutes or until chicken is golden brown and cooked through.
Top chicken with parsley and serve.
Enjoy!
Watch the recipe video here:
This cheddar oven-fried chicken is a dinner your kids will love! ?FULL RECIPE: https://tasty.co/recipe/cheddar-oven-fried-chickenNow you can buy our favorite 6-piece baking set here: http://bit.ly/2zUV8DJ (Just so you know, we'll make some money if you use this link.)

Posted by Tasty on Saturday, October 28, 2017