Mini Chocolate Pavlovas
These mini chocolate pavlovas will be love at first bite.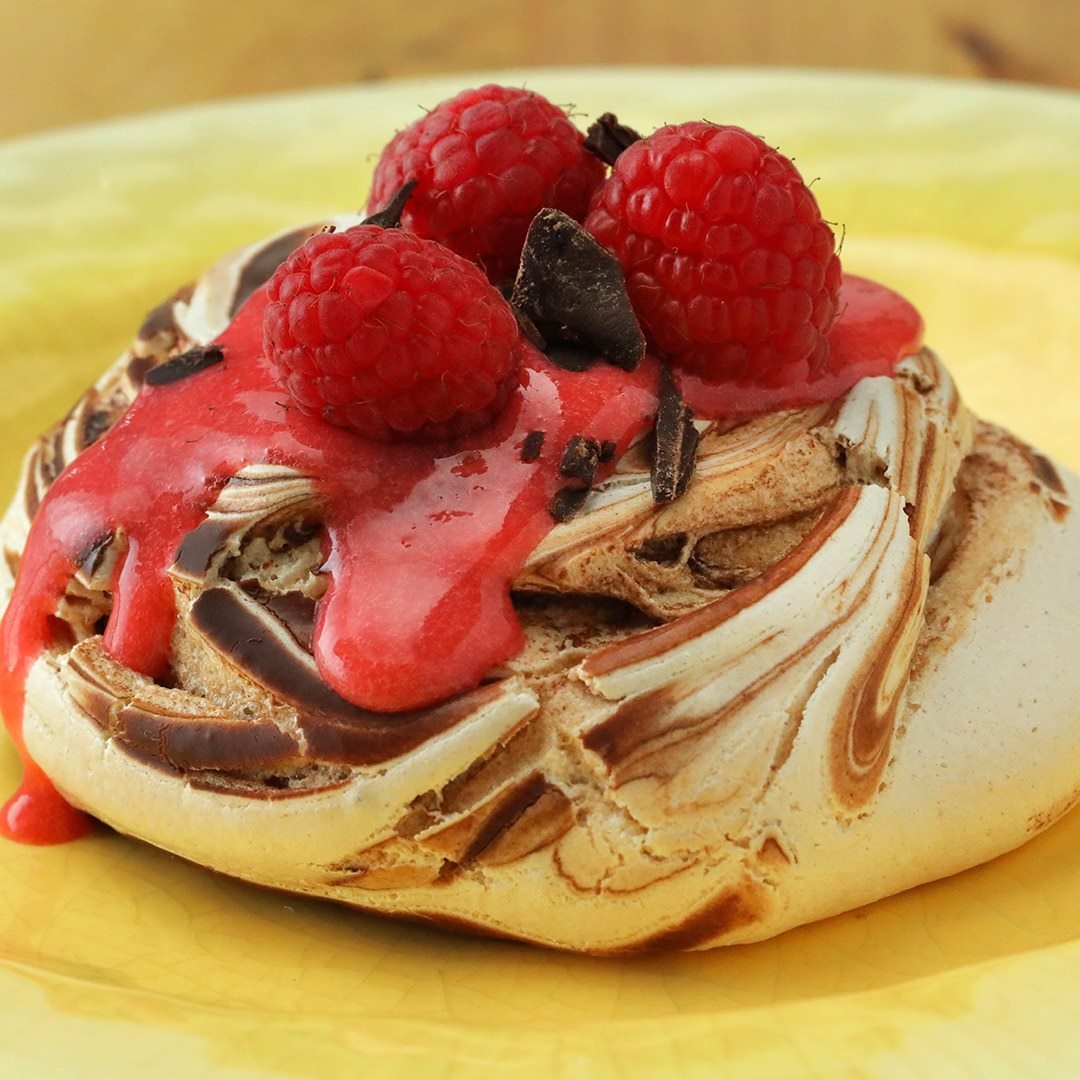 Ingredients
Pavlovas
8 large egg whites
1 pinch salt
2 1⁄2 cups granulated sugar
4 teaspoons cornstarch
1⁄2 scant teaspoon vanilla extract 2 teaspoons white wine vinegar
1 cup semi-sweet chocolate chips 1 tablespoon coconut oil
Raspberry Puree
Raspberry Curd
8 ounces lemon juice
8 ounces egg yolk (from about 10-12 eggs) 8 ounces sugar
Pinch of kosher salt
11⁄2 tablespoons lemon zest
ASSEMBLY
Raspberries, to garnish
Shaved chocolate, to garnish
Instructions
Preheat oven to 350°F (180°C).
Whisk the egg whites with the salt until they form firm peaks but are not too stiff. Gently add the sugar, a few tablespoons at a time. Continue beating until meringue is glossy. Add cornstarch, vanilla, and the vinegar on top and fold in to combine.
In a microwave, melt chocolate and coconut oil in a heat-proof bowl for 30 seconds at a time, stirring in between. Let cool slightly.
Line 3 baking sheets with parchment paper and draw 6 (4-inch) circles (using a pint glass as a guide) on each of the parchment-lined sheets.
Spoon 2 tablespoons of egg-white mixture onto each circle, followed by about 1⁄2 teaspoon of melted chocolate. Repeat a second time with each pavlova so that there are 2 layers each of meringue and chocolate. With a butterknife, make swirls in each pavlova. Use the back of the spoon to make an indentation in the center to hold the curd later.
Transfer meringues to the oven, lowering the heat to 300°F. Bake for 40 minutes. Turn the oven off, leaving the meringues in the warm oven an additional 30 minutes, then remove from the oven to cool.
Raspberry Puree: In a food processor, pulse raspberries until reaching a smooth puree. Strain into a small bowl, then discard the seeds.
Raspberry Curd: Bring the lemon juice to a simmer in a medium (non-reactive) pot. Meanwhile, whisk together the egg yolks, sugar, and salt in a medium bowl. When the lemon juice begins to bubble, begin slowly whisking some of the lemon juice into the yolk, about 2 ounces at a time. Once yolks are tempered, pour back into the pot and cook on medium-low heat, stirring constantly with a heat-resistant spatula, until the curd has a thick, pudding-like consistency (about 185°F).
Strain into a bowl, discarding any bits that remain. Add the lemon zest and raspberry puree, then whisk to combine until mixture is cooled. Store the curd in the refrigerator to thicken.
Spoon about a tablespoon of raspberry curd into each indentation of the meringues and top each with a few raspberries and garnish with chocolate shavings.
Watch the recipe video here: