Blue Pancakes
When we're feeling blue, we like to make pancakes... and cover them with chocolate and blueberries!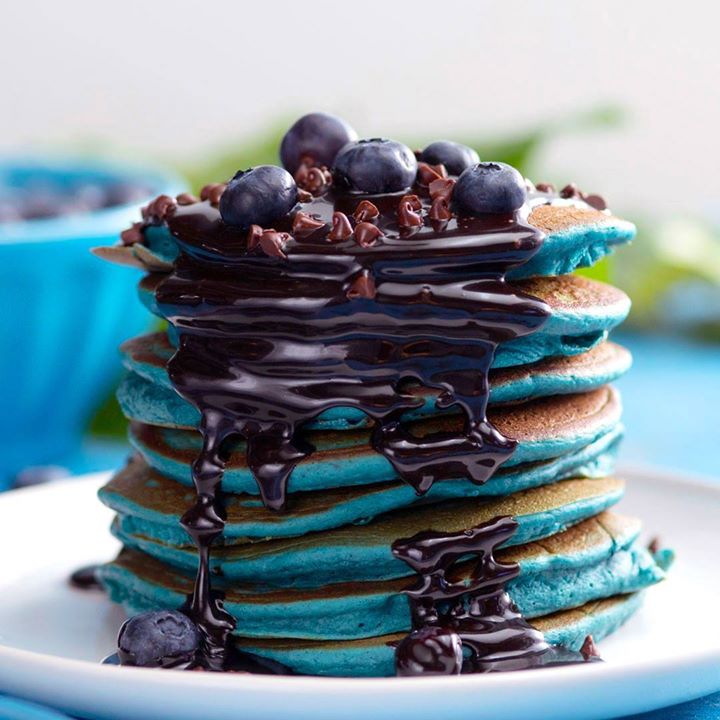 Ingredients
2¼ cups flour
3 teaspoons baking powder
Pinch salt
2 tablespoons blue spirulina powder
3 tablespoons honey
2 eggs, room temperature
1¾ cups whole milk, room temperature
3 tablespoons melted butter, plus more for cooking
½ cup chocolate syrup, for serving
1 cup blueberries, for garnish
1 cup mini chocolate chips
Instructions
In a large bowl, mix together the flour, baking powder, salt and blue spirulina. Whisk well.
In a medium bowl, mix together the honey, eggs, almond milk and coconut oil. Pour this mixture into the dry ingredients and mix until just combined.
Pour some coconut oil on a cast-iron skillet set over medium-low heat. Pour about ¼ cup of batter onto the hot skillet and cook for about 2 to 4 minutes on each side.
Stack pancakes, pour over chocolate syrup, garnish with blueberries and serve!
Watch the recipe video here:
Let us introduce you to the new blueberry pancakes.Taste for Yourself: taste.md/2HIjrYC

Posted by Tastemade on Sunday, March 18, 2018