Premium Tres Leches Cake
Sweetened condensed milk, whole milk and whipping cream are the traditional "three milks" that are mixed together and poured into "poke" holes, saturating this tres leches cake and transforming it from an everyday sheet cake into a moist, flavorful and deeply rich dessert.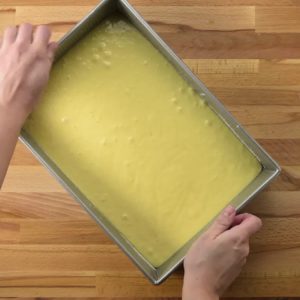 Ingredients
1 box Betty Crocker™ Super Moist™ yellow cake mix
1¼ cups water
1 tablespoon vegetable oil
2 teaspoons vanilla
4 eggs
1 can (14 oz) sweetened condensed milk (not evaporated)
1 cup whole milk or evaporated milk
1 cup whipping cream
1 container Betty Crocker™ Whipped fluffy white frosting
Instructions
Heat oven to 350°F (325°F for dark or nonstick pan). Spray bottom and sides of 13x9-inch pan with cooking spray.
In large bowl, beat cake mix, water, oil, vanilla and eggs with electric mixer on low speed 30 seconds, then on medium speed 2 minutes, scraping bowl occasionally. Pour into pan.
Bake as directed on box for 13x9-inch pan. Let stand 5 minutes. Poke top of hot cake every ½ inch with long-tined fork, wiping fork occasionally to reduce sticking.
In large bowl, stir together sweetened condensed milk, whole milk and whipping cream. Carefully pour evenly over top of cake. Cover; refrigerate about 1 hour or until mixture is absorbed into cake. Frost with frosting. Store covered in refrigerator.
Watch the recipe video here: