Sticky Buns
It's impossible to eat just one of these soft, yummy sticky buns—they have wonderful old-fashioned goodness. Use the conventional method or your bread machine to make the dough.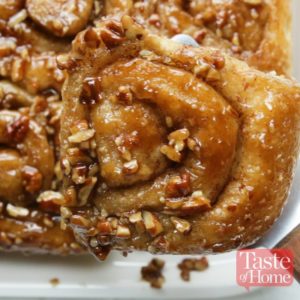 Ingredients
2 teaspoons active dry yeast
1-1/4 cups warm water (110° to 115°)
3 tablespoons butter, softened
3 tablespoons sugar
2 tablespoons nonfat dry milk powder
1 teaspoon salt
3-1/4 to 3-3/4 cups bread flour
SAUCE:
½ cup packed brown sugar
¼ cup butter, cubed
¼ cup corn syrup
½ cup chopped pecans
FILLING:
⅓ cup butter, softened
1 tablespoon sugar
1 teaspoon ground cinnamon
Instructions
Dissolve yeast in water. Add butter, sugar, milk powder and salt, then beat in 2 cups flour on low for 3 minutes. Stir in enough remaining flour to form a soft dough.
Turn onto a floured surface; knead until smooth and elastic, 6-8 minutes. Place dough in a greased bowl, turning once to grease top. Cover and let rise in a warm place until doubled, about 1 hour.
Meanwhile, in a small saucepan, make sauce by combining brown sugar, butter and corn syrup; cook over medium heat until sugar is dissolved. Stir in pecans. Pour into a greased 13x9-in. baking dish.
Punch down dough. Turn onto a floured surface; roll into a 16x10-in. rectangle. Make filling by combining butter, sugar and cinnamon; spread to within ¾ in. of edges. Roll up jelly-roll style, starting with a long side; pinch seam to seal. Cut into 12 slices; place slices cut side down over sauce. Cover with a kitchen towel; let rise in a warm place until doubled, about 45 minutes.
Preheat oven to 375°. Bake until golden brown, 20-25 minutes. Cool 3 minutes before inverting onto a serving platter.
Watch the recipe video here: