Galaxy Cake Pops
These pops will blow your friends away.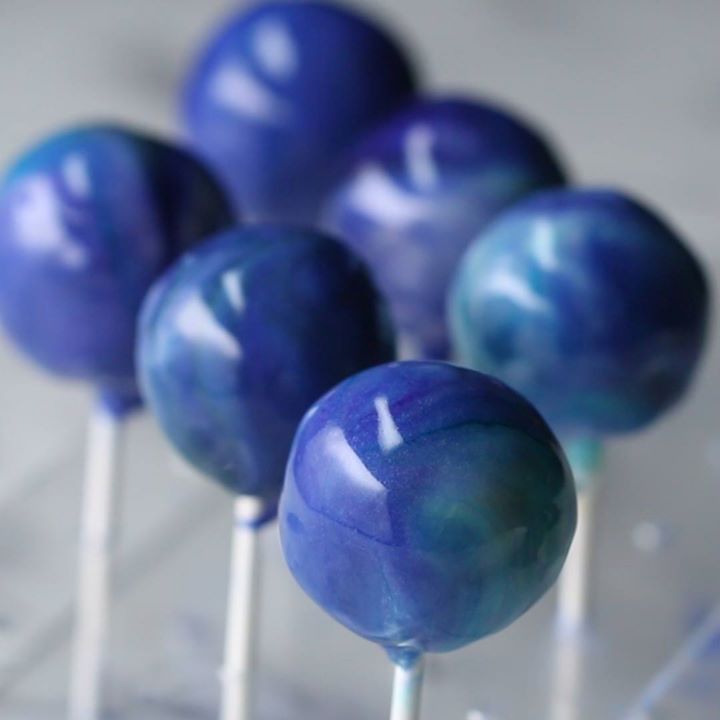 Ingredients
Cake
1 box cake mix, prepared according to package instructions
⅓ cup vanilla frosting
¼ cup white chocolate, melted
Glaze
½ cup water, divided
1 7-gram packet of gelatin
½ cup sugar
2 ounces condensed milk
¾ cup white chocolate
Blue food coloring
Purple food coloring
Green food coloring
Instructions
Preheat oven to 350˚F (180˚C).
Prepare the yellow cake batter according to package instructions and pour into greased pan.
Bake until a toothpick comes out clean, about 30 minutes. Cool to room temperature.
In a medium bowl, crumble the cake. Add vanilla frosting to give some moisture to the cake. If it is too dry, add more frosting.
Using a small ice cream scoop, portion the cake and shape into a ball. Repeat with remaining cake.
Dip a popsicle stick tip into the melted white chocolate and insert into the cake balls. Freeze for at least 30 minutes.
In a small bowl, add the ¼ cup water and gelatin and let bloom for 5 minutes.
In a medium saucepan, combine ¼ cup water, sugar, and condensed milk, and bring to a boil over high heat. Remove the pan from the heat and add the bloomed gelatin. Whisk until well combined.
Add the white chocolate to a bowl. Pour the condensed milk mixture through a sieve into the bowl of chocolate and let it sit for 2 minutes to soften the chocolate.
Using a immersion blender, blend the chocolate until smooth. Transfer the mixture into a deep container such as a mug.
Squeeze dark blue, purple, and green food coloring into the mug or bowl without stirring.
Dip the frozen cake pop into the chocolate and twist as you pull up creating a marbled pattern.
Stick in a piece of styrofoam and dry the pop completely. Repeat with remaining cake pops.
Enjoy!
Watch the recipe video here:
These galaxy cake pops are MESMERIZING ?!FULL RECIPE: http://bzfd.it/2hbBV8e

Posted by Tasty on Monday, September 18, 2017