Cherry Bars
https://www.facebook.com/136841459683926/posts/2465876810113701/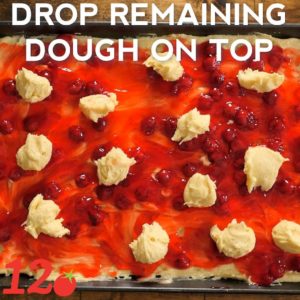 Ingredients
Bars:
1¾ cups sugar
1 cup (2 sticks) unsalted butter, softened
1 teaspoon vanilla extract or almond extract
4 eggs
3 cups all-purpose flour
1½ teaspoon baking powder
1 (21 oz.) can cherry pie filling
¼ teaspoon salt
Glaze:
1 cup powdered sugar
1 tablespoon milk
½ teaspoon almond extract
Instructions
Preheat oven to 350º F and lightly grease a 13x17-inch jelly roll pan with butter or non-stick spray.
In a medium bowl, whisk together flour, baking powder and salt, then set aside.
In a large bowl, cream together butter and sugar for 3-5 minutes, or until fluffy and lightened in color.
Beat in eggs one at a time, then mix in vanilla extract.
Gradually beat in flour mixture until just incorporated, then spread ⅔ dough mixture into greased baking sheet.
Spread cherry pie filling into an even layer on top of dough, then crumble or drop remaining dough on top of pie filling.
Place baking sheet in oven and bake for 33-35 minutes, or until edges of crust are just golden brown and toothpick inserted in center comes out clean.
Remove from oven and let cool completely.
To make glaze: whisk milk and almond extract into powdered sugar, adding ½-1 tablespoon more milk in if needed.
Drizzle glaze on top of cooled cherry bars, then let set before slicing and serving.
Watch the recipe video here: