Butter Chicken Meatballs
Butter Chicken Meatballs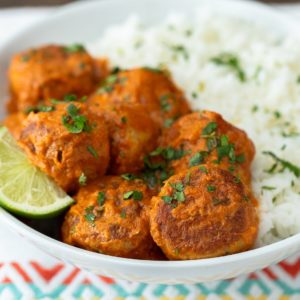 Ingredients
MEATBALLS
½ cup bread crumbs (60 g)
½ cup milk (120 mL)
1 clove garlic, minced
1 egg
2 teaspoons salt
½ teaspoon pepper
1 lb ground chicken (455 g)
1 tablespoon vegetable oil
SAUCE
1 tablespoon vegetable oil
2 tablespoons butter
1 yellow onion, diced
3 garlics, minced
1 tablespoon ginger, minced
1 ½ teaspoons McCormick ® Ground Cumin
1 teaspoon McCormick ® Paprika
2 ½ teaspoons garam masala, divided
½ teaspoon cayenne pepper
1 ½ teaspoons salt
14 oz crushed tomato (390 g)
3 tablespoons butter
½ cup heavy cream (120 mL)
fresh cilantro, minced, for garnish
lime wedge, for serving
rice, for serving
Instructions
Meatballs:
In a medium bowl, stir together bread crumbs and milk. Let sit for 5 minutes. Add in garlic, egg, salt, and pepper, then stir until well-combined. Stir in ground chicken. Combine well, but do not overmix. With oiled hands, roll the meat into golf-size balls.
Pour 1 tablespoon vegetable oil into a skillet over medium heat. Add meatballs and brown on all sides. Remove meatballs from the pan (meatballs will not be fully cooked through at this time). Wipe the pan out to make the sauce.
Sauce:
Heat vegetable oil and butter in the same skillet over medium heat. Add onions and sauté until translucent, about 5 minutes. Add garlic and ginger, then let sizzle for a minute or two.
Stir in McCormick Ground Cumin, McCormick Paprika, 1½ teaspoons garam masala, cayenne, and salt. Let spices heat through until fragrant, about 2 minutes. Add crushed tomatoes and bring sauce to a simmer, then take off the heat.
Let the sauce cool for 5–10 minutes. Blend sauce until smooth, adding a tablespoon or two of water if it is too thick to blend.
Pour the sauce back into the skillet. Whisk in the butter, cream, and 1 teaspoon garam masala. Add the meatballs to the sauce and stir to coat. Cover and cook for 5 minutes, or until meatballs are fully cooked through.
Garnish with cilantro. Serve with rice and lime wedges.
Enjoy!
Watch the recipe video here: