Cast-Iron Peach Crostata
While the crostata, an open-faced fruit tart, is actually Italian, my version's peach filling is American all the way. —Lauren Knoelke, Milwaukee, Wisconsin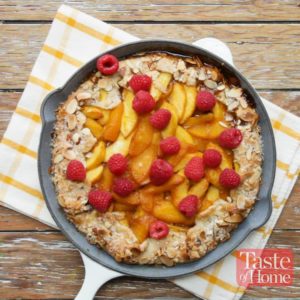 Ingredients
1-1/2 cups all-purpose flour
2 tablespoons plus ¾ cup packed brown sugar, divided
1-1/4 teaspoons salt, divided
½ cup cold unsalted butter, cubed
2 tablespoons shortening
3 to 5 tablespoons ice water
8 cups sliced peaches (about 7-8 medium)
1 tablespoon lemon juice
3 tablespoons cornstarch
½ teaspoon ground cinnamon
¼ teaspoon ground nutmeg
1 large egg, beaten
2 tablespoons sliced almonds
1 tablespoon coarse sugar
⅓ cup water
1 cup fresh raspberries, optional
Instructions
Mix flour, 2 tablespoons brown sugar and 1 teaspoon salt; cut in butter and shortening until crumbly. Gradually add ice water, tossing with a fork until dough holds together when pressed. Shape into a disk; wrap in plastic. Refrigerate 1 hour or overnight.
Combine peaches and lemon juice. Add remaining brown sugar, cornstarch, spices and remaining salt; toss gently. Let stand 30 minutes.
Preheat oven to 400°. On a lightly floured surface, roll dough into a 13-in. circle; transfer to a 10-in. cast-iron skillet, letting excess hang over edge. Using a slotted spoon, transfer peaches into pastry, reserving liquid. Fold pastry edge over filling, pleating as you go, leaving center uncovered. Brush folded pastry with beaten egg; sprinkle with almonds and coarse sugar. Bake until crust is dark golden and filling bubbly, 45-55 minutes.
In a small saucepan, combine reserved liquid and water; bring to a boil. Simmer until thickened, 1-2 minutes; serve warm with pie. If desired, top with fresh raspberries.
Watch the recipe video here: