Hawaiian Punch Slush for Adults
A tropical, flavorful, alcoholic slush that packs a punch! Serve 2 scoops in a glass with lemon-lime soda. You'll want to keep this one away from the kids!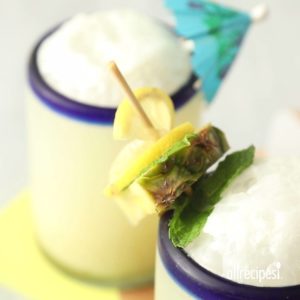 Ingredients
2 (14 ounce) cans cream of coconut
3 (6 ounce) cans frozen lemonade concentrate
1 (46 fluid ounce) can unsweetened pineapple juice
1 (750 milliliter) bottle vodka
2 liters lemon-lime flavored carbonated beverage
Instructions
In a plastic container combine cream of coconut, lemonade concentrate, pineapple juice and vodka. Mix well and store overnight in the freezer.
To serve, place 2 scoops in a glass, then fill the glass with lemon-lime soda.
Watch the recipe video here: