Sweet Tea Barbecued Chicken
Marinades sometimes use coffee or espresso, and that inspired me to add tea to perk up a barbecue sauce.—Kelly Williams, Forked River, New Jersey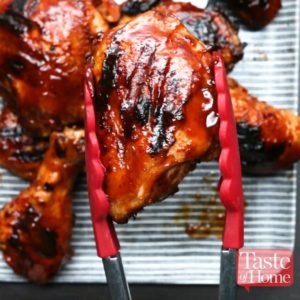 Ingredients
1 cup unsweetened apple juice
1 cup water
2 teaspoons seafood seasoning
1 teaspoon paprika
1 teaspoon garlic powder
1 teaspoon coarsely ground pepper
1 chicken (4 to 5 pounds), cut up
1 cup barbecue sauce
½ cup sweet tea
Instructions
Preheat oven to 350°. Pour apple juice and water into a large shallow roasting pan. Mix seafood seasoning, paprika, garlic powder and pepper; rub over chicken. Place in roasting pan.
Bake, covered, until juices run clear and a thermometer reads 170° to 175°, about 50-60 minutes. Transfer chicken to a foil-lined 15x10x1-in. baking pan. Whisk barbecue sauce and sweet tea; brush some of mixture over chicken.
Place chicken on greased grill rack; grill over medium heat 3-4 minutes per side, brushing occasionally with remaining sauce.
Watch the recipe video here:
Betcha never thought of marinating your chicken like this!> Get the recipe for Sweet Tea Barbecued Chicken: https://trib.al/ruHwLzC

Posted by Taste of Home on Monday, July 8, 2019