Stuffed French Toast Breakfast Sandwich
After waking up late, you might as well take your time making a super-satisfying sandwich. Because, like Diesel, sometimes you just gotta go with the flaw.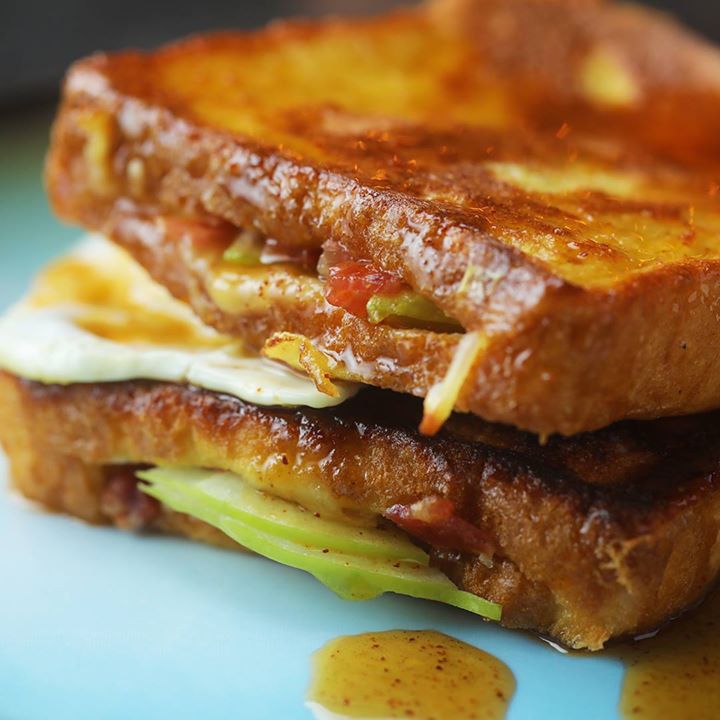 Ingredients
Maple butter
¼ cup unsalted butter
1 cup maple syrup
¼ teaspoon cayenne
Sandwich
6 eggs
Salt and pepper
4 slices thickly sliced white bread ("Texas toast")
6 slices cooked bacon, crumbled
½ apple, finely sliced
¼ shredded cheese
¼ cup heavy cream
2 tablespoons vegetable oil
Extra eggs for topping
Instructions
Heat electric griddle to medium-high (or a griddle pan over medium-high heat).
In a saucepan over medium-high heat, melt butter. Add in maple syrup and cayenne, then simmer for 5 minutes. Keep warm.
Beat 4 eggs with heavy cream. Season with salt and pepper. Set aside.
Carefully cut a small pocket into each bread slice. Fill each slice with cheese, bacon, apple slices, and shredded cheese.
Carefully dip bread slices into egg mixture. Turn until bread is fairly saturated with egg mixture.
Heat oil on griddle until sizzling. Place bread slices onto griddle and cook until cheese is melted (about 4 minutes per side).
Remove from heat and cover bread to keep warm.
Use remaining oil (adding 1 tablespoon more if necessary) to fry sunny-side-up eggs.
Top the slices with sunny-side-up eggs and maple butter. Enjoy!
Watch the recipe video here:
Stuffed French Toast Breakfast Sandwich

Stuffed French Toast Breakfast SandwichAfter waking up late, you might as well take your time making a super-satisfying sandwich. Because, like Diesel, sometimes you just gotta go with the flaw.http://www.diesel.com/tasty

Posted by BuzzFeed Food on Thursday, February 1, 2018