Deviled Bacon and Eggs
Why are The Pioneer Woman - Ree Drummond 's Deviled Eggs better than all the rest? Because they have BACON ?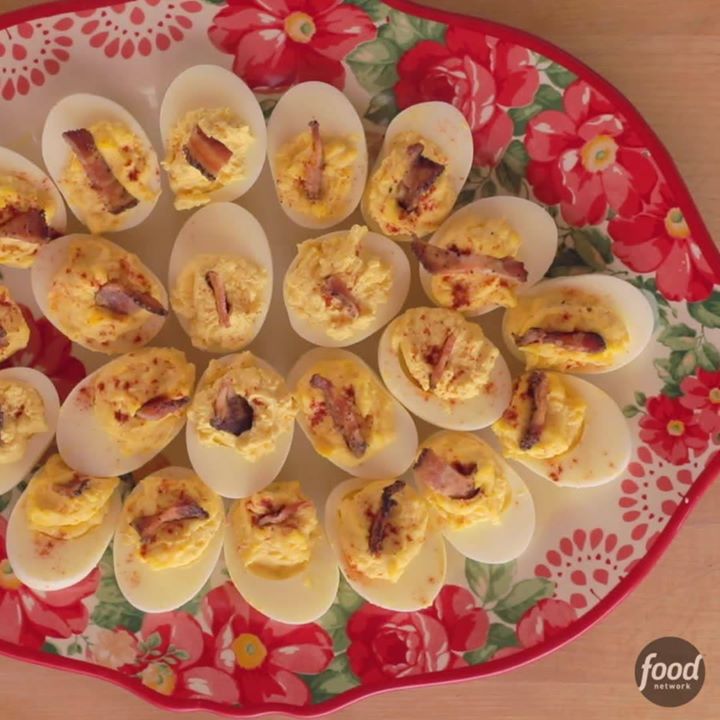 Ingredients
6 slices peppered bacon
1 dozen eggs
¼ cup mayonnaise
¼ cup heavy cream
1 teaspoon yellow mustard
1 teaspoon sugar
1 teaspoon white vinegar
Hot sauce, such as Tabasco, as needed
Kosher salt and freshly ground black pepper
Paprika, for sprinkling
Instructions
Fry the peppered bacon in a pan over medium heat until crisp, 12 to 15 minutes. Remove to a paper-lined plate.
Fill a large pot with enough water to cover the eggs, then bring to a boil (without the eggs). Using a slotted spoon, gently lower the eggs into the boiling water. Cover and simmer for 10 minutes. Run the eggs under cold water until completely cooled.
Peel the eggs, cut in half and scoop out the yolks into the bowl of a stand mixer fitted with the whisk attachment. Add the mayo, cream, mustard, sugar and vinegar. Add hot sauce if using and salt and pepper to taste. Whip until smooth.
Using a small spoon, fill each egg white half with a generous teaspoon of the filling. Lightly sprinkle with paprika. Cut the bacon into chunks and decorate the tops of the egg halves with a shard of bacon.
Watch the recipe video here: