Kung Pao Popcorn Fried Chicken
Kung Pao roughly translates as "palace guardian", so named after an official governor of the Sichuan province during the late Qing dynasty. As with many dishes this has travelled the world, leaving the names meaning on the wayside, relentlessly morphing on its voyage to suit the palates of the countries it's passing through, just about hanging onto the peanut and Shaoxing rice wine vestments of its Imperial Chinese youth. Our version fries the chicken in batter to make in extra delicious.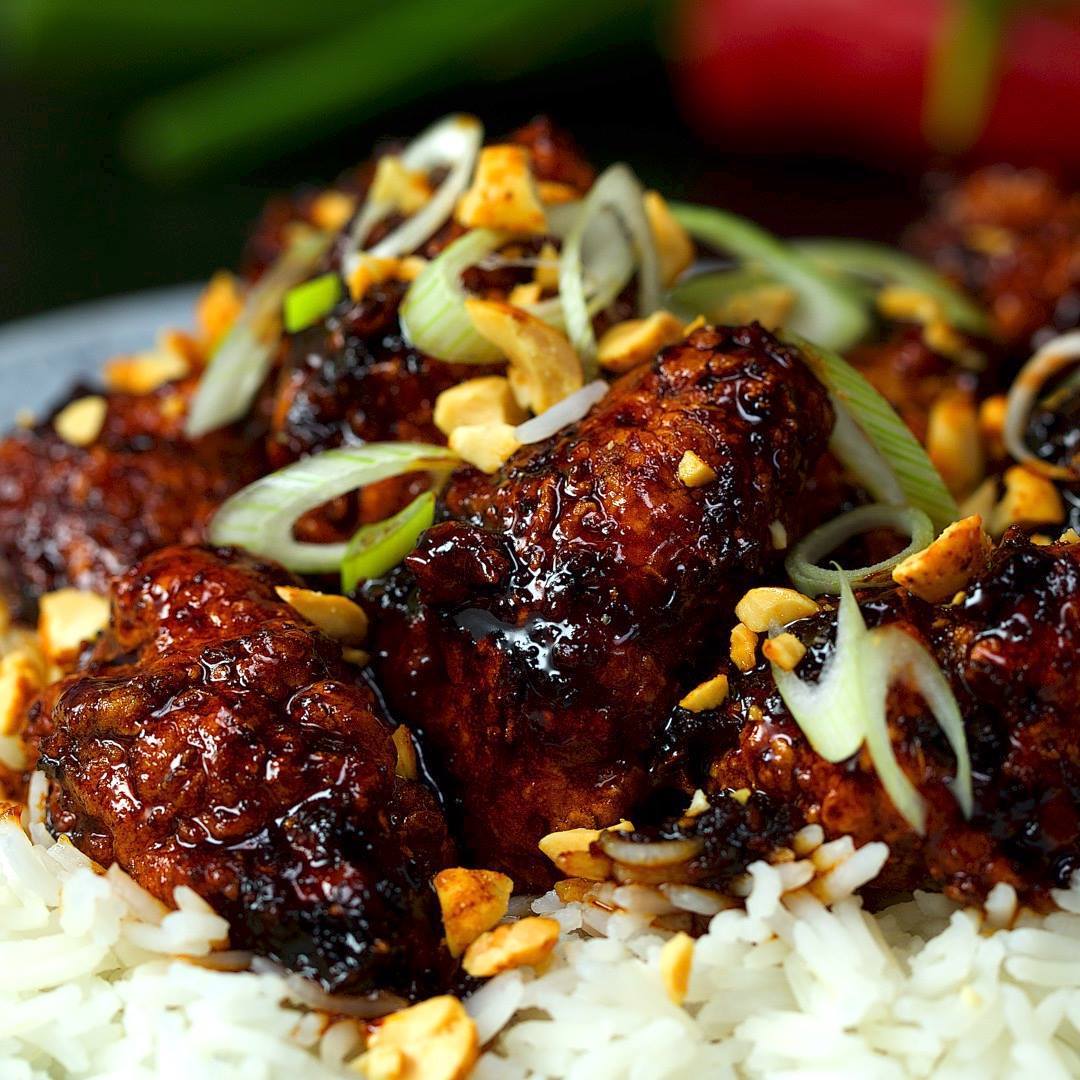 Ingredients
Marinade
5 eggs, white only
100ml soy sauce
100ml rice vinegar
5 chicken breasts, cut into roughly 2cm chunks
200g cornflour
200g plain flour
50g sugar
1 tsp black pepper
1 tsp salt
2 litres groundnut oil
Sauce
2 tbsp groundnut oil
5m ginger, finely diced
5 cloves garlic, finely diced
2 tbsp mild chilli flakes
3 tbsp Shaoxing rice wine
50ml light soy sauce
50ml dark soy sauce
1 tbsp ground pepper (Sichuan if you can get some!)
1 tbsp corn flour
2 tbsp water
Instructions
Whisk the egg whites, soy and vinegar together and add the chicken - the mixture is a little gross at this stage but persevere - the egg whites are perfect for making the flour stick to the chicken later on in the recipe.
Cover with clingfilm and leave in the fridge for at least an hour or two.
Meanwhile, whisk together corn flour and plain flour and add salt and pepper.
Heat the oil to 175°C/360°F. In batches toss the drained chicken pieces in the flour - if there are a few drips and craggy bits fear not, as these will make the chicken really crunchy at the end.
Cook for around ¾ minutes, until golden and crisp, then place to cool on a rack above some kitchen towel.
Meanwhile, fry the ginger and garlic in hot oil in the wok until fragrant. Add the two soy sauces and the rice wine and stir to mix together. Add the sugar, salt and pepper. In a small bowl mix the cornflour with water to make a slurry, then add this to the sauce. Bring to a simmer and thicken before adding the chicken and stirring to glaze.
Serve hot with rice, thinly sliced spring onions and crushed dry roasted peanuts.
Watch the recipe video here: