Triple Cheddar Broccoli Soup
Cause what's better than cheesy soup in a bread bowl?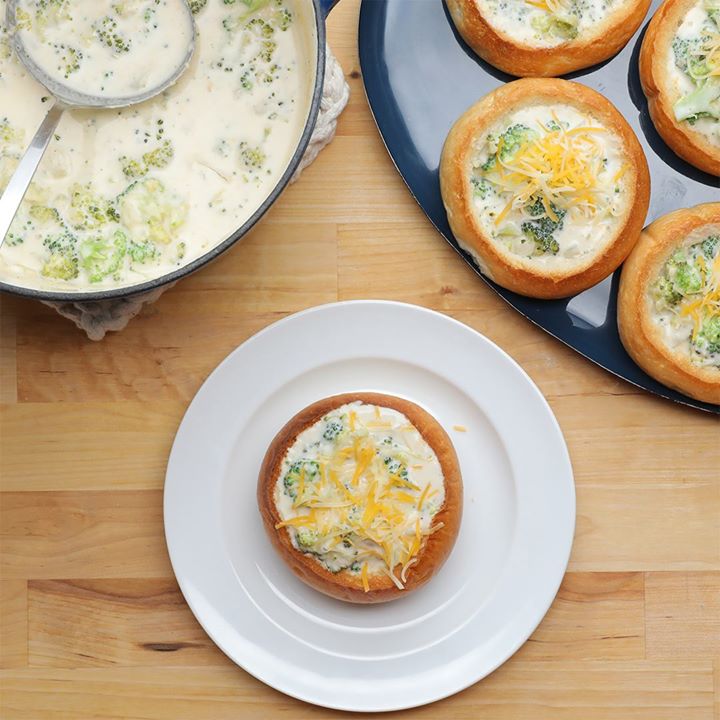 Ingredients
1 Tbsp. olive oil
  1 cup chopped onions
  2 Tbsp. butter
  2 Tbsp. flour
  2 cups half-and-half
  2 cups fat-free reduced-sodium chicken broth
  2-1/2 cups small broccoli florets
  ¼ tsp. black pepper
  ⅛ tsp. ground nutmeg
  1-1/2 cups KRAFT Finely Shredded Triple Cheddar Cheese, divided
  6 French bread rolls
Instructions
HEAT oil in large saucepan on medium heat. Add onions; cook 8 min. or until crisp-tender, stirring frequently. Remove onions from pan with slotted spoon; reserve for later use.
MELT butter in same saucepan. Add flour; stir until blended. Cook 2 min. or until hot and bubbly, stirring frequently. Gradually add half-and-half, then chicken broth, stirring constantly. Bring to boil; simmer on medium-low heat 10 min., stirring occasionally.
ADD broccoli, pepper, nutmeg and reserved onions; mix well. Cook 15 min. or until broccoli is tender, stirring occasionally.
HEAT oven to 375°F. Add 1 cup shredded cheese to soup; cook and stir 2 min. or until melted. Remove from heat
CUT tops off French bread rolls; tear out centers from bottoms of rolls, leaving ¼-inch-thick shells. Discard tops and removed centers or reserve for another use. Place bread shells on baking sheet. Bake 5 min. or until lightly browned.
FILL bread shells with soup. Top with remaining cheese; bake 2 min. or until melted.
Substitute:
Prepare using KRAFT Shredded Triple Cheddar Cheese with a TOUCH OF PHILADELPHIA.
Mindful Eating:
Practice mindful eating by savoring the flavor of this cheesy soup and sticking to the recommended serving size.
Nutrition Information Per Serving: 460 Calories, 26g Total fat, 15g Saturated fat, 0g Trans Fat, 65mg Cholesterol, 720mg Sodium, 40g Carbohydrate, 4g Dietary Fiber, 6g Sugars, 15g Protein, 6mg Potassium, 20%DV Vitamin A, 4%DV Vitamin C, 0%DV Vitamin D, 25%DV Calcium, 10%DV Iron
Watch the recipe video here:
Cause what's better than cheesy soup in a bread bowl?

Posted by Tasty on Wednesday, December 6, 2017