Asparagus 'Guacamole'
This is an avocado-less recipe that can be served with veggies or low-fat chips. Very spicy so you may want to cut back on the hot pepper sauce or jalapeno peppers.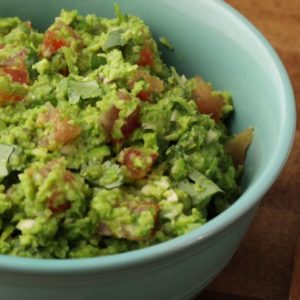 Ingredients
1½ pounds asparagus, cut into small pieces
1 tablespoon fat-free Greek-style yogurt
1 tablespoon lime juice
¼ cup chopped fresh cilantro
3 green onions, thinly sliced
½ jalapeno pepper, minced
1 tablespoon minced garlic
1 tomato, diced
½ teaspoon Worcestershire sauce
1 dash hot pepper saucesalt and ground black pepper to taste
Instructions
Place the asparagus into a steamer insert and set into a pot over one inch of water; bring the water to a boil. Place a cover on the pot and steam the asparagus for 5 minutes. Transfer the asparagus to the bowl of a food processor and puree until smooth.
Combine the asparagus puree with the yogurt, lime juice, cilantro, green onions, jalapeno pepper, garlic, tomato, Worcestershire sauce, and hot pepper sauce in a large bowl; gently stir to combine. Season with salt and pepper. Chill in refrigerator until completely cooled.
Watch the recipe video here: