Instant Pot Best Salisbury Steak
It's the perfect weeknight recipe idea to serve to your family.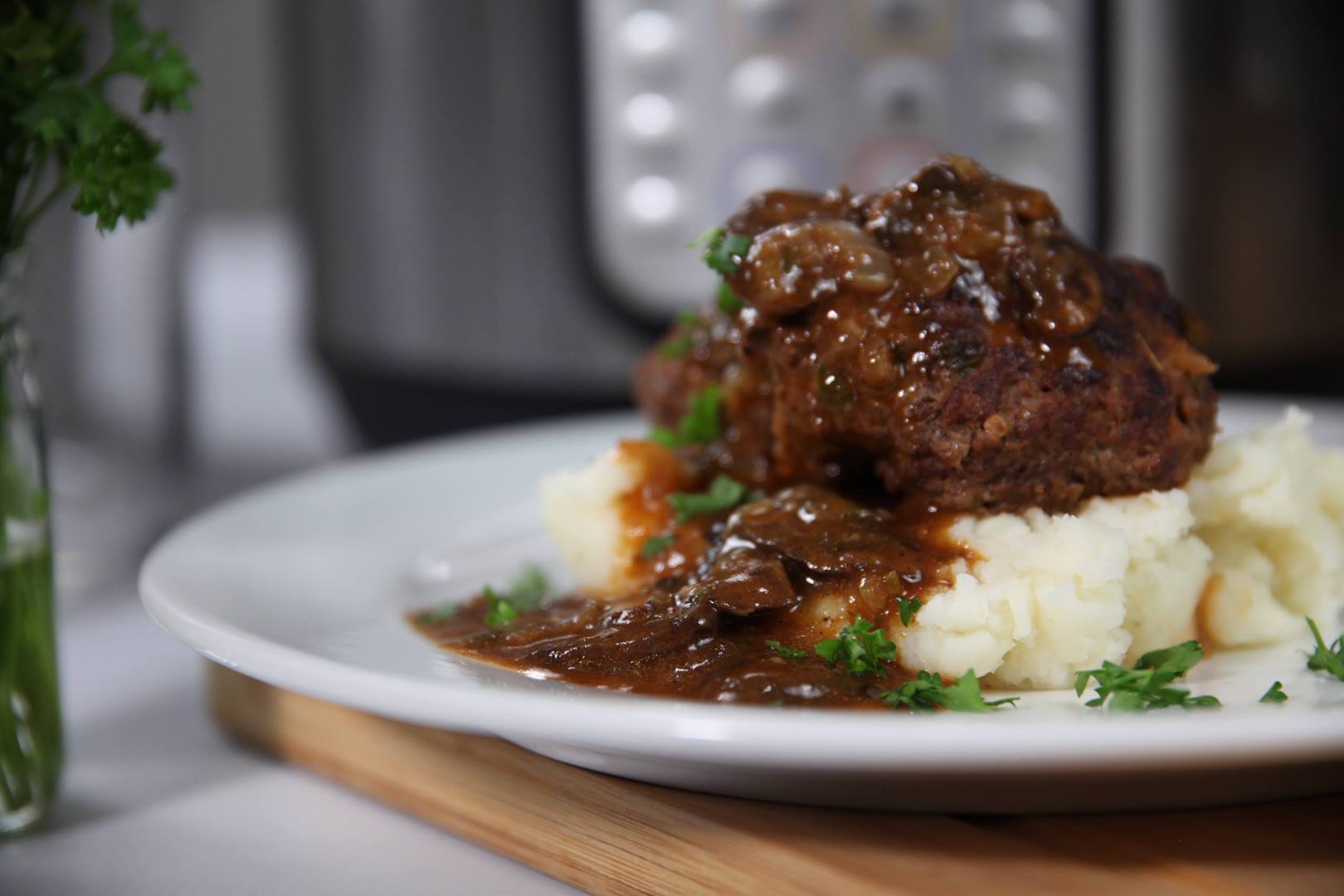 Ingredients
Steak Mixture:
1½ lbs ground beef, preferably 93% lean
⅓ cup panko breadcrumbs
3 tbsp milk
1 clove garlic, minced
1 tbsp Worcestershire sauce
1 beef bouillon cube, crushed (or 1 tsp salt, ½ tsp pepper)
½ tsp smoked paprika
Sauce Mixture:
2 cups beef broth
1 tbsp tomato paste
1 tbsp dijon
2 tbsp fresh parsley, minced
1 tsp kosher salt
½ tsp pepper
½ tsp dried thyme
1 tbsp butter
1 medium yellow onion, thinly sliced
8 oz crimini (baby bella) mushrooms, sliced
2 tbsp water
2 tbsp cornstarch
Salt and pepper to taste
Additional chopped parsley for garnish
Instructions
In a large bowl, combine the Steak Mixture ingredients just until uniform. Do not overmix. Shape into 6 patties and let rest for at least 10 minutes for breadcrumbs to absorb flavor.
Meanwhile, in a medium bowl, whisk together the Sauce Mixture ingredients.
Add butter to the Instant Pot. Using the display panel select the SAUTE function.
When butter melts, brown the steaks on both sides, 2-3 minutes per side. Meat may not be cooked through. Do not crowd the pot–you will have to work in batches. Transfer browned meat to a shallow dish and cover loosely with foil.
Add onions and mushrooms to the pot and saute until onions begin to soften, 3-4 minutes.
Add sauce mixture to the pot and deglaze by using a wooden spoon to scrape the brown bits from the bottom of the pot.
Layer the steaks back into to the pot on top of the vegetables.
Turn the pot off by selecting CANCEL, then secure the lid, making sure the vent is closed.
Using the display panel select the MANUAL function*. Use the +/- keys and program the Instant Pot for 15 minutes.
When the time is up, let the pressure naturally release for 15 minutes, then quick-release the remaining pressure.
Carefully remove the steaks from the pot to a shallow dish and cover loosely with foil, reserving juices.
In a small bowl, mix together cornstarch and cold water. Stir into the pot until thickened, returning to SAUTE mode as needed. Adjust seasonings.
Serve the steak topped with gravy over noodles, spaghetti squash or mashed potatoes.
Watch the recipe video here:
It's the perfect weeknight recipe idea to serve to your family.RECIPE: http://chopsecrets.com/instant-pot-best-salisbury-steak/

Posted by Chop Secrets on Tuesday, June 4, 2019