TURTLE FUDGE
Turtle Fudge is rich, delicious and the perfect addition to any holiday dessert plate. The decadent layer of caramel and pecans makes it absolutely irresistible.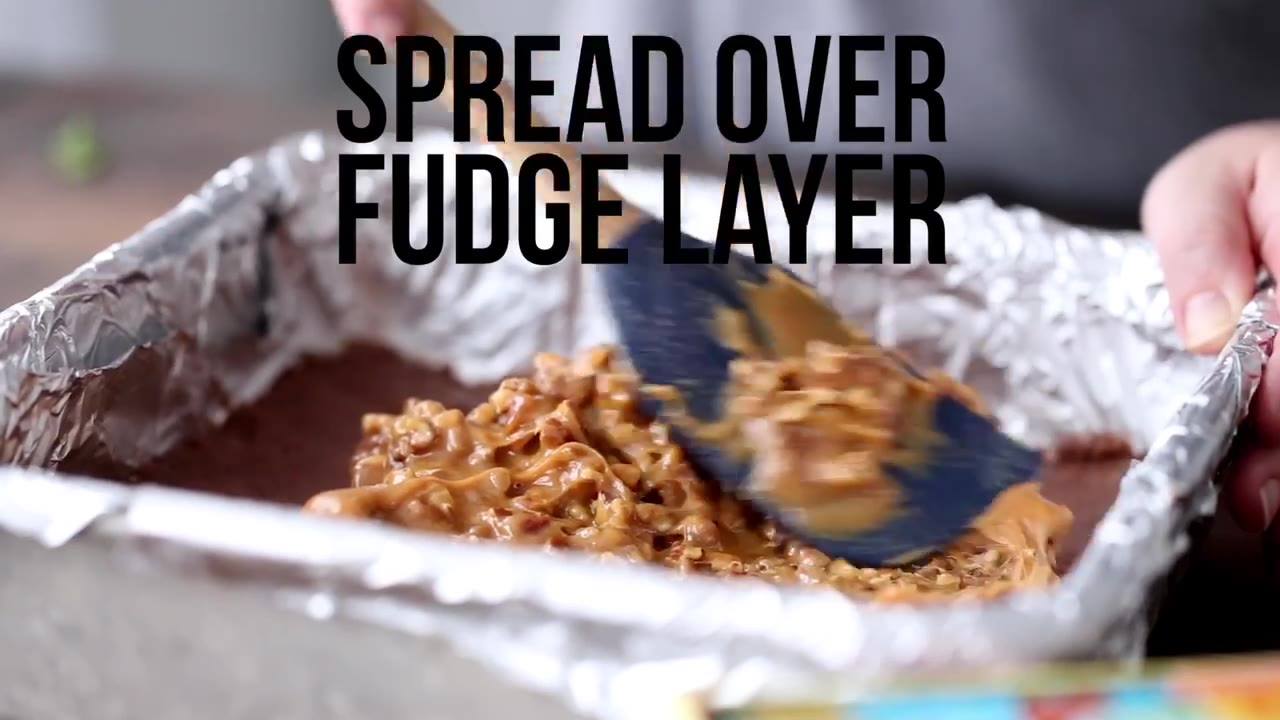 Ingredients
For the Fudge Layer
½ cup salted Challenge Butter
¼ cup packed light brown sugar
⅓ cup unsweetened cocoa powder
¼ cup evaporated milk
3 cups powdered sugar, sifted
For the Caramel Layer
30 caramels, unwrapped
2 tablespoons evaporated milk
pinch salt
1 teaspoon pure vanilla extract
1½ cups chopped toasted pecans
For the Topping
1 cup dark chocolate chips
Instructions
Line an 8-inch square baking pan with parchment or foil. Lightly spray the pan with nonstick cooking spray. Set aside.
In a medium saucepan over medium heat, stir together butter, brown sugar, cocoa powder and ¼ cup of evaporated milk. Heat until mixture just comes to a boil. Remove from heat. Use a rubber spatula to stir in the powdered sugar until fully incorporated and mixture is smooth with no visible sugar lumps.
Use a rubber spatula to spread the fudge into an even layer in the prepared pan.
In another medium saucepan over low heat, melt caramels and 2 tablespoons of evaporated milk, stirring often until the mixture is completely melted and smooth. Remove from heat and stir in the salt, vanilla and pecans.
Pour caramel mixture over the fudge layer and spread into an even layer.
Bring about an inch of water to a simmer in a saucepan. Set a heatproof bowl onto the saucepan, making sure the water doesn't touch the bottom of the heatproof bowl. Add chocolate chips to the bowl and stir occasionally. Carefully remove the bowl from the heat when there are just a few unmelted chips remaining. Stir until smooth.
Use an off-set spatula to spread the melted chocolate over the caramel. Chill until firm.
NOTES:
To cut this fudge with ease, you'll want to dip a knife in hot water for a few seconds, carefully wipe it dry with a clean towel and then get to cutting!
Watch the recipe video here: