Braided Skirt Steak
Thinly sliced and packed with flavorful spices, this meat dish is perfectly complemented by a side of mashed corn and potatoes.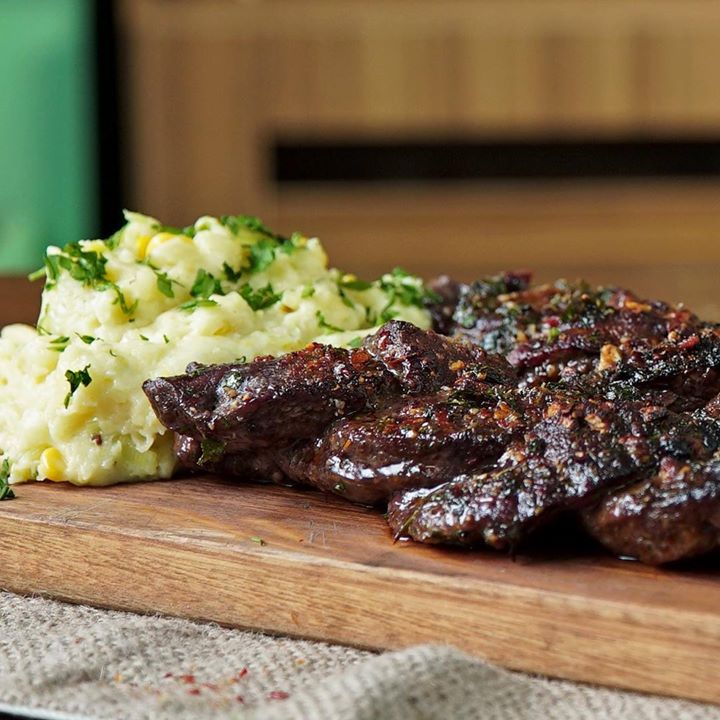 Ingredients
2 pounds skirt steak
2 cloves garlic, minced
4 tablespoons dried oregano
4 tablespoons paprika
4 tablespoons ground red pepper
4 tablespoons dried oregano
1 bunch parsley, chopped
4 tablespoons garlic powder
Olive oil
Mashed potatoes and corn:
2 potatoes, cooked in salted water
Olive oil
2 leeks, minced
4 cloves garlic, minced
2 ears of corn, kernels removed
¼ cup butter, cubed
½ cup heavy cream
½ cup Parmesan cheese
Instructions
Preheat oven to 350 degrees.
Cut skirt steak into 3 vertical strips. Braid together, then place in a baking pan. Sprinkle with garlic, paprika, red pepper flakes, oregano, parsley and garlic powder. Drizzle with olive oil then bake for 15 minutes until browned.
In a saute pan, add olive oil and saute leeks, corn and garlic until fragrant.
In a large mixing bowl, add the cooked potatoes, leek mixture, butter and heavy cream. Season with salt and pepper, then use an immersion blender to puree. Stir in Parmesan cheese.
Serve steak with mashed potatoes.
Watch the recipe video here:
We love meat so much, we braided it. & boy does it look stunning. ?Full Recipe: taste.md/2EmY3qn?: Tastemade Español

Posted by Tastemade on Thursday, February 15, 2018