Chicken Potstickers
For some reason I always thought that making potstickers would be super complicated…little did I know, it's crazy easy! Literally, all you have to do is add all of the ingredients together, stir it up, then stuff the wontons! These make for the most delicious appetizer!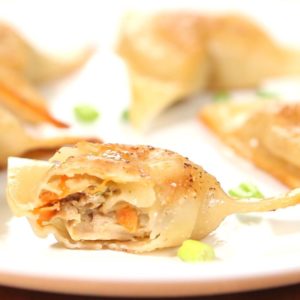 Ingredients
1 lb Ground chicken
½ CUP Shredded cabbage
1 Carrot, peeled and shredded
2 Cloves garlic, pressed
2 Green onions, thinly sliced
1 Tbsp Reduced sodium soy sauce
1 Tbsp Hoisin sauce
1 Tbsp Freshly grated ginger
2 tsp Sesame oil
36 Won ton wrappers
2 Tbsp Vegetable oil
Instructions
In a large bowl, combine chicken, cabbage, carrot, garlic, green onions, soy sauce, hoisin sauce, ginger and sesame oil.
To assemble the dumplings, place wrappers on a work surface. Spoon 1 tablespoon of the chicken mixture into the center of each wrapper. Using your finger, rub the edges of the wrappers with water. Fold the dough over the filling to create a half-moon shape, pinching the edges to seal.
Heat vegetable oil in a large skillet over medium heat.
Add potstickers in a single layer and cook until golden and crisp, about 2-3 minutes per side.
Serve immediately with siracha chili sauce.
Enjoy!
Watch the recipe video here: