Art's Southern-Style Chocolate Gravy
Art Stone from Honest Biscuit in Seattle was inspired by his grandmother's version of this down-home, easy-to-make breakfast staple that's served over fluffy buttermilk biscuits. Sounds kind of funny if you've never tried it before, but one bite and you'll be hooked.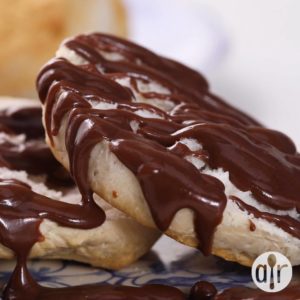 Ingredients
2 ⅔ tablespoon butter
2 tablespoon all-purpose flour
⅔ cup white sugar
⅓ cup unsweetened cocoa powder
2 cup whole milk
Instructions
Melt butter in a skillet over medium-high heat until bubbling, 1 to 2 minutes. Add flour and stir until smooth, about 1 minute. Mix sugar and cocoa powder into butter-flour mixture until dissolved. Slowly pour milk into chocolate mixture, stirring constantly, until gravy thickens, 5 to 7 minutes.
Watch the recipe video here: