Turtle Tart
Prize-Winning Recipe 2007! Show-stopper desserts can be delicious as well as super simple when you start with a time-saving cookie mix! Check out the recipe tip for using a common baking pan.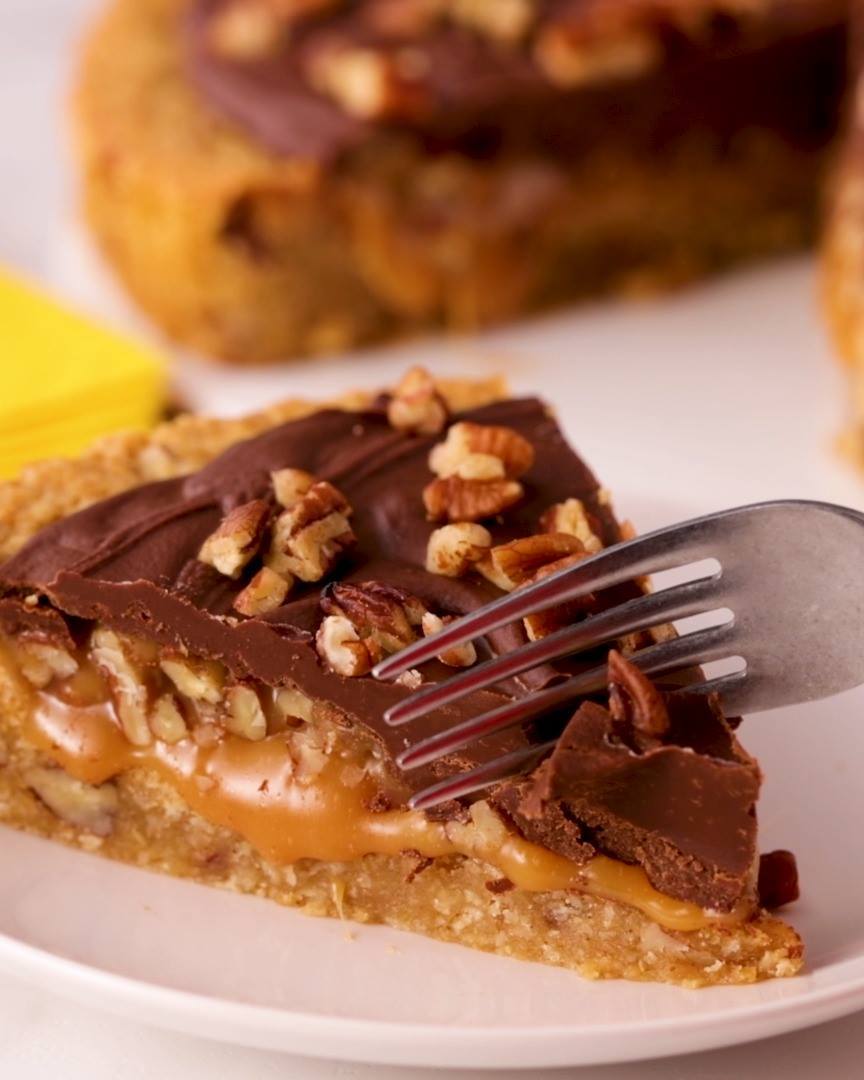 Ingredients
Cookie Base
1
pouch (1 lb 1.5 oz) Betty Crocker™ oatmeal cookie mix
½
cup butter or margarine, softened
1
tablespoon water
1
egg
1
cup chopped pecans
Filling
40
caramels, unwrapped
⅓
cup whipping cream
¾
cup chopped pecans
Topping
1
bag (11.5 oz) milk chocolate chips (2 cups)
⅓
cup whipping cream
¼
cup chopped pecans
Instructions
Heat oven to 350°F. In large bowl, stir cookie mix, butter, water and egg until soft dough forms. Stir in 1 cup pecans. Press dough in bottom and up sides of ungreased 9-inch tart pan with removable bottom.
Bake 19 to 21 minutes or until light golden brown. Cool 10 minutes. Using back of a spoon, gently press center of crust to flatten slightly.
Meanwhile, in medium microwavable bowl, microwave caramels and ⅓ cup cream on High 2 to 4 minutes, stirring twice, until caramels are melted. Stir in ¾ cup pecans. Spread over cooled crust. Refrigerate 15 minutes.
In medium bowl, place chocolate chips. In 1-quart saucepan, heat ⅓ cup whipping cream over medium-low heat 3 to 5 minutes or until hot. Pour cream over chocolate chips in bowl; let stand 5 minutes. Stir until smooth. Pour over filling. Sprinkle with ¼ cup pecans. Refrigerate 2 hours or until set. To serve, let stand at room temperature 10 minutes before cutting. Store covered in refrigerator.
Watch the recipe video here: