Apple Crisp Strudel
You may be inspired to sing while you bake — and eat. Don't say we didn't warn you.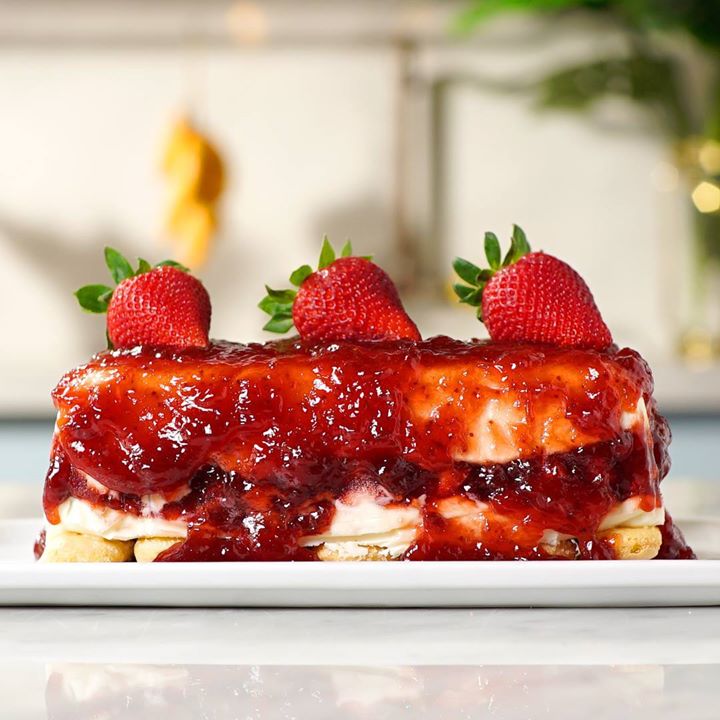 Ingredients
Dough Recipe
1 cup all-purpose flour, plus extra for dusting
⅓ cup lukewarm water
½ teaspoon kosher salt
Vegetable oil, enough to coat the dough
Filling Recipe
11/2 pounds apples (about 3-4 apples), cored, peeled, and sliced
¾ cup unseasoned bread crumbs
6 tablespoons granulated sugar
1 tablespoon ground cinnamon
3 tablespoons raisins, soaked in rum
6 tablespoons butter, melted
1 tablespoon lemon juice
Egg wash (1 egg 1 tablespoon water, whisked)
Crisp Apple Strudel
Whipped cream, flavored with rum, vanilla or almond extract
Confectioner's sugar
Instructions
Dough Recipe
In a bowl, combine flour and salt.
Slowly incorporate the water, while mixing until a mass is formed.
Begin kneading the dough on a floured surface for about 10 minutes or until smooth.
It should feel moist, but not sticky.
Dust the dough with a little more flour if needed.
Then beat or slam the dough a few times to help relax the gluten.
Form it into a ball, and set it aside in a bowl of vegetable oil to rest for at least one hour.
Filling Recipe
In a pan, toast bread crumbs in 3 tablespoons of melted butter, until golden brown.
Set aside to cool, and then combine with sugar and cinnamon.
In a bowl, add the sliced apples and cover with lemon juice to prevent browning.
Add raisins, without the rum, and mix everything well.
Crisp Apple Strudel
Preheat oven to 375F.
Drip off the excess oil, and roll the dough in some flour.
Then roll it out on a floured surface.
When the dough reaches about a foot wide, place it on a clean, floured tablecloth.
Pick up the dough with your the back of your hand and knuckles, and begin to gently stretch the dough from the middle outwards. The goal is to make it almost paper thin and rectangular in shape.
Once the dough is too large to handle, carefully place it back onto the floured tablecloth.
Go around the edges and continue stretching it, until it's thin enough to read through the dough. Use scissors to trim off the thick edges.
Brush the entire surface with the remaining melted butter.
Spread the bread crumb mixture on one half, and then place the apple mixture on top.
Fold in all the edges. Starting at the end with the filling, use the tablecloth to gently roll the strudel all the way to the end.
Carefully place it on a baking sheet, and brush it with melted butter and the egg wash. Bake on 375F for about 30 minutes or until golden brown.
Allow it to cool before serving.
Slice and serve with a dusting of confectioners sugar and a dollop of whipped cream.
Watch the recipe video here:
When you're craving berries & cream – look no further…Full Recipe: taste.md/2kLVjdL?: Tastemade Brasil

Posted by Tastemade on Saturday, January 13, 2018