Mashed Potato Bun Bacon Burger
Mashed Potato Bun Bacon Burger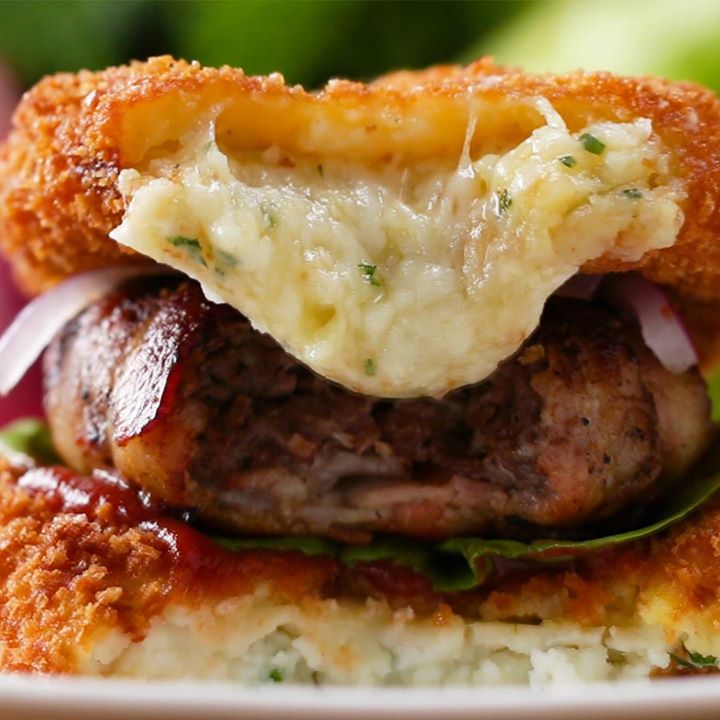 Ingredients
MASHED POTATO BUNS
5 russet potatoes, peeled and cubed
4 cloves garlic, peeled
6 cups cold water
¼ cup butter, cubed
½ cup milk
salt, to taste
pepper, to taste
2 tablespoons fresh parsley, chopped
6 slices provolone cheese
2 cups panko breadcrumb
5 eggs
oil, for frying
BACON BURGERS
1 lb ground beef
1 teaspoon salt
1 teaspoon onion powder
½ teaspoon pepper
12 slices bacon
ketchup, to serve
lettuce, to serve
red bell pepper, sliced, to serve
Instructions
In a pot over high heat, add the potatoes and garlic and cover with cold water.
Bring the potatoes to a boil, reduce the heat and simmer until fork tender, about 20 minutes.
Drain the potatoes in a colander and return to the pot.
Add the butter, milk, salt and pepper. Mash until smooth.
Add in the parsley and mix until combined. Transfer the potatoes to a piping bag or ziplock bag.
On a parchment paper-lined baking sheet, place the provolone slices.
Pipe the mashed potatoes on top of the rounds starting from the outside to the center of the cheese.
Freeze until solid, about 1 hour.
Place the egg and panko in two bowls.
Place the frozen potato round in the egg ensuring it's completely submerged.
Place the potato round in the panko and flip to cover completely. If necessary repeat process putting potato back into the egg and once more in the panko.
In a large pot, heat oil to 350°F (180°C).
Place the potato in oil and fry until both sides are golden brown, about 2 minutes per side.
Set the mashed potato rounds on a wire rack to drain.
In a bowl, add the ground beef, season with salt, onion powder, and pepper. Mix until combined.
Form patties with your hand about the size of your palm.
Lay the bacon two strips overlapping and two strips perpendicular.
Place the burger patty on the bacon and fold over the bacon strips, trimming if necessary.
Heat a pan over medium heat and add the bacon patties and cook until cooked through.
Assemble the burger by placing one potato "bun" on the bottom. Spread with ketchup or your favorite sauce.
Build with lettuce, patty, red onion and top potato bun.
Enjoy!
Watch the recipe video here: