Sausage Stuffed Jalapenos
Jalapeno pepper halves are stuffed with cheese and sausage. You will love this spicy appetizer treat!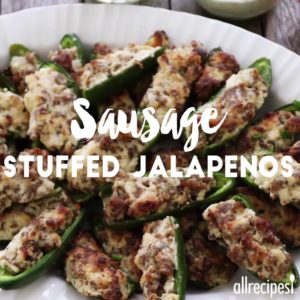 Ingredients
1 pound ground pork sausage
1 (8 ounce) package cream cheese, softened
1 cup shredded Parmesan cheese
1 pound large fresh jalapeno peppers, halved lengthwise and seeded
1 (8 ounce) bottle Ranch dressing (optional)
Instructions
Preheat oven to 425 degrees F (220 degrees C).
Place sausage in a skillet over medium heat, and cook until evenly brown. Drain grease.
In a bowl, mix the sausage, cream cheese, and Parmesan cheese. Spoon about 1 tablespoon sausage mixture into each jalapeno half. Arrange stuffed halves in baking dishes.
Bake 20 minutes in the preheated oven, until bubbly and lightly browned. Serve with Ranch dressing.
Watch the recipe video here: