Best Coconut Cake Ever
Light and fluffy as a cloud, this coconut cake is an absolute dream.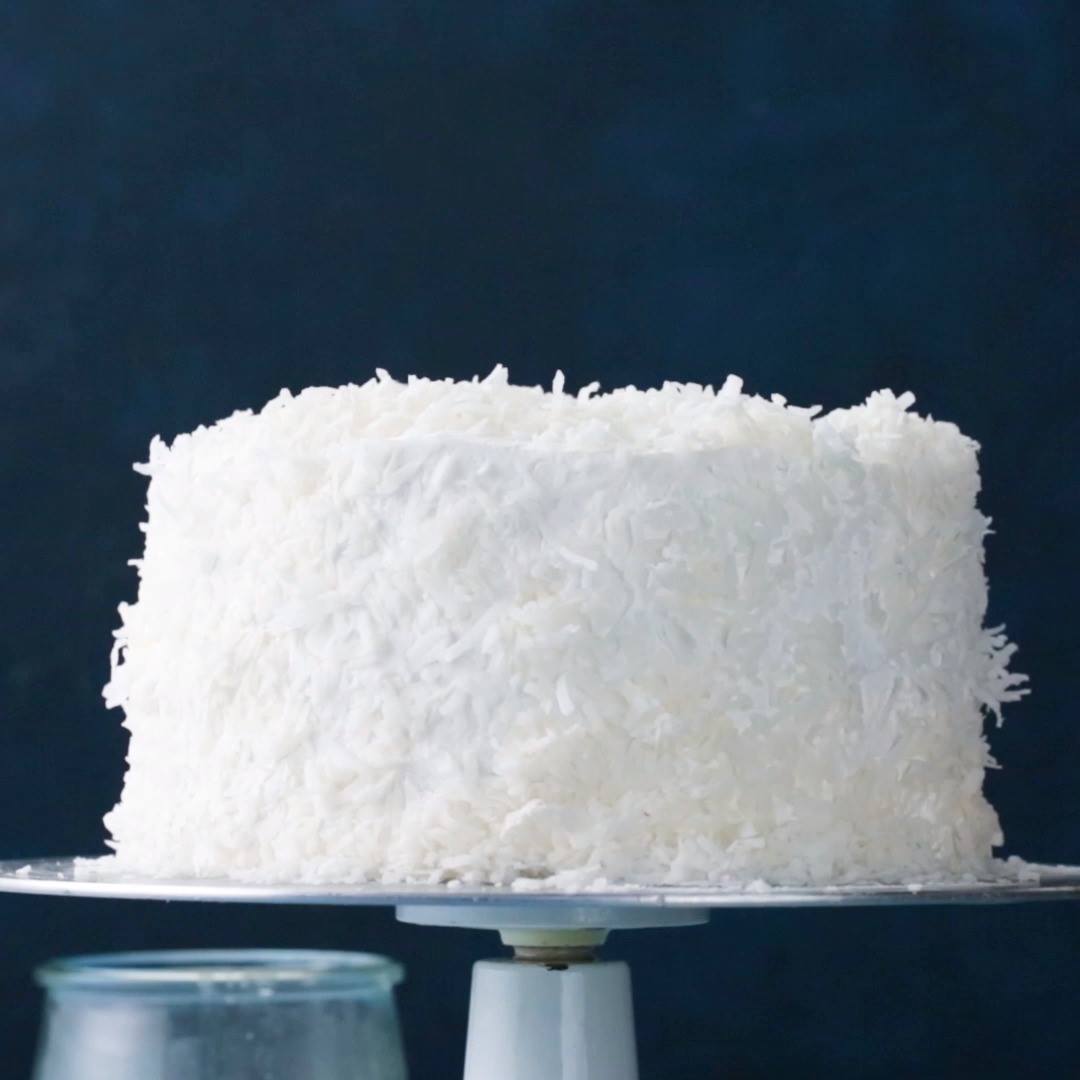 Ingredients
For the cake:
1 large egg
5 large egg whites
¾ cup cream of coconut
¼ cup coconut milk
1 teaspoon coconut extract
1 teaspoon vanilla extract
2½ cups all-purpose flour
1 tablespoon baking powder
1 teaspoon salt
1 cup sugar
1½ sticks butter, room temperature, cubed
2 cups shredded coconut
½ coconut simple syrup
For the coconut filling:
2 large eggs
½ cup sugar
2 tablespoons cornstarch
½ teaspoon salt
1½ cups coconut milk
1 tablespoon butter, cubed
1 teaspoon vanilla extract
For the coconut buttercream:
3 cups vanilla buttercream
¼ cup cream of coconut
1 teaspoon coconut extract
1 teaspoon vanilla extract
Instructions
Make the coconut cake:
Preheat the oven to 350 degrees, and line two 9-inch cake pans with baking spray and parchment paper.
In a large bowl, beat egg and egg whites until combined. Add cream of coconut, coconut milk, coconut and vanilla extracts and mix until combined. Set aside.
In a small bowl, mix flour, baking powder and salt and set aside. In another large bowl, cream sugar and butter until light and fluffy, approximately 3 to 4 minutes. Alternate adding flour and egg mixture into the creamed butter and mix until thoroughly combined. Divide batter between cake pans and bake for 25 to 30 minutes until cake is golden and a toothpick comes out clean. Allow to cool for up to 2 hours.
Make the coconut pastry cream:
In a medium saucepan, whisk together eggs and sugar until well combined. Whisk in cornstarch, salt and coconut milk. Add butter. Cook mixture over medium-low heat, stirring constantly with a wooden spoon, just until it starts to thicken. Immediately whisk mixture until smooth, then continue to cook and stir custard until it has come to a very low boil for 2 minutes, about 6 to 8 minutes total. Strain custard through a fine mesh sieve into a small bowl, pushing it through with a small spatula. Stir in vanilla. Cover with plastic wrap, pressing the plastic directly onto the surface. Chill for at least 3 hours and up to overnight.
Make the coconut buttercream:
In a large bowl, mix buttercream, cream of coconut, vanilla extract and coconut extract. Stir until thoroughly incorporated. Set aside.
Assemble the cake:
Cut each cooled cake in half lengthwise, creating four cake layers in total. Place one cake layer on a serving platter and top with ¼ cup of coconut pastry cream. Repeat this step until all layers are used, leaving the last layer bare on top. Set in the fridge to cool for 30 minutes. Remove chilled cake from fridge and cover completely in buttercream. Top with toasted coconut and serve. Cake will keep up to five days covered in the fridge.
Watch the recipe video here:
Soft. Fluffy. Moist. This cake is cloud 9.Taste for Yourself: taste.md/2JxeXcy

Posted by Tastemade on Saturday, June 16, 2018