Giant Zebra 'Box' Cake
Giant Zebra 'Box' Cake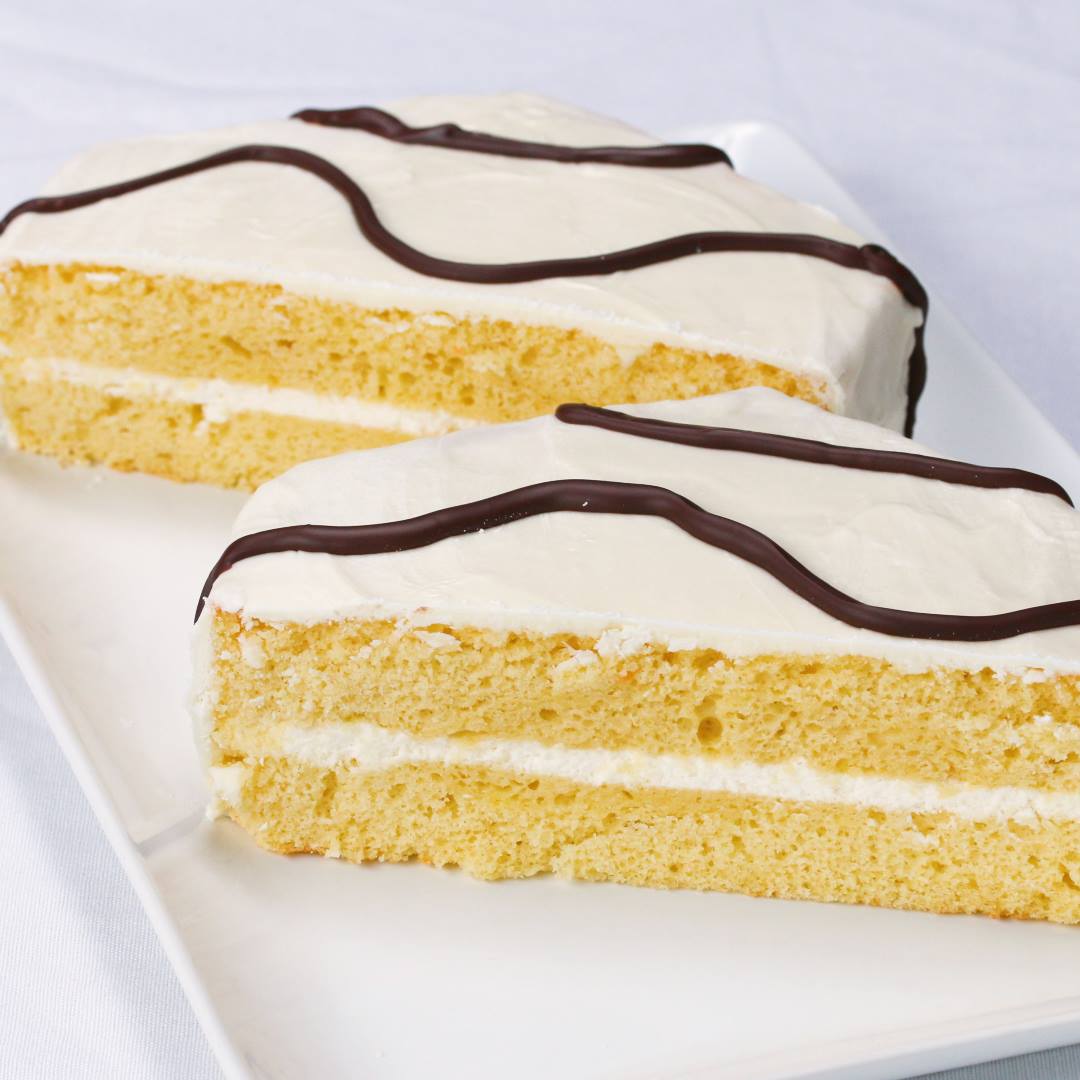 Ingredients
FILLING
1 cup whipped cream (60 g)
½ cup marshmallow fluff (25 g)
CAKE
1 yellow cake mix, baked according to package instructions in 2 9-inch (23 cm) cake pans and cooled completely
COATING
2 cups white chocolate chip (350 g)
2 tablespoons coconut oil
ICING
¼ cup dark chocolate chip, melted (45 g)
SPECIAL EQUIPMENT
cooling rack, for glazing cake
pastry bag
Instructions
Make the filling: In a large bowl, combine the whipped cream and marshmallow fluff. Beat with an electric hand mixer until stiff peaks form.
Use a serrated knife to carefully remove the domed top from the cakes, leaving a flat, even surface. Save the scraps for later – you can eat them with leftover melted chocolate or crumbled over ice cream.
Spread the filling over the bottom cake, leaving about ¾-inch (2 cm) border around the edge. Place the other cake upside down on top of the filling.
Trim the cake into a hexagon. Transfer the cake to a wire rack set over a baking sheet.
Make the coating: Fill a medium saucepan halfway with water. Bring to a boil, reduce the heat to medium-low. Combine the white chocolate chips and coconut oil in a medium heatproof bowl and set it over the pan (make sure the bottom of the bowl isn't touching the water). When the white chocolate and coconut oil begin to melt, mix together until smooth. Be careful, as the bowl will be very hot.
Pour the melted white chocolate mixture over the cake. Use a knife to spread to the edges and down the sides. Once smooth, run a knife under the edges of the cake so it doesn't stick to the rack and place the cake in the refrigerator until the coating is set, 10-15 minutes.
Transfer the melted dark chocolate chips to a piping bag or zip-top bag with a corner snipped off. Carefully pipe chocolate zebra stripes onto the cake. Return to the refrigerator to set for 10-15 minutes. Remove the cake once the stripes are dry.
To serve, slowly and carefully slice with a serrated knife so the shell doesn't crack. Score the slices with a paring knife before cutting to make it easier, if needed.
Enjoy!
Watch the recipe video here: