Cereal Cake
Bring your favorite cereal from breakfast to dessert with this towering cake masterpiece. Once all the decorations are in place, you might just mistake it for your morning cereal bowl.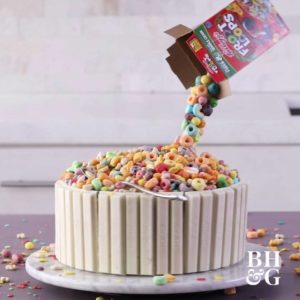 Ingredients
1 ¾ cups milk, warmed
4 cups desired cereal
1 cup butter
1 package 2-layer-size white cake mix
4 eggs
5 cups powdered sugar
Pinch salt
¼ teaspoon almond extract (optional)
10 1.5 ounces packages white chocolate-covered crisp wafers (Kit Kat White®; 4 per package)
Serving spoon
1 12 inch long, thick wooden skewer or dowel
1 empty single serving-size cereal box*
2 ounces white baking chocolate, melted
Instructions
In a small bowl combine milk and 1¾ cups cereal; let stand 15 minutes. Strain; discarding cereal.
Preheat oven to 350°F. Grease two 8-inch round cake pans. Line bottoms with waxed paper or parchment paper; grease paper. Flour insides of pans. Set aside.
Melt ¼ cup butter. Set aside remaining butter to soften. In a large bowl beat cake mix, 1 cup of the reserved cereal milk, eggs, and melted butter with a mixer on medium for 2 minutes. Divide batter between prepared pans.
Bake 30 minutes or until a toothpick inserted near centers comes out clean. Let cool in pans on wire rack 15 minutes. Remove cakes from pans and let cool completely on wire racks.
In a large bowl beat softened butter, alternately add powdered sugar, and 2 to 3 tablespoons of the remaining cereal milk until desired consistency, beating well between additions. Beat in salt and, if desired, almond extract. Continue beating mixture for 5 minutes or until light and fluffy.
Stack cake layers on a cake stand or serving dish with frosting between the layers. Frost the top and the sides of the cake. Attach wafers vertically to cover the sides of the cake. Top cake with 2 cups cereal to look like a cereal bowl. Insert serving spoon into cake to look like a cereal spoon.
Tape a wooden dowel to the inside of the cereal box. Spoon white chocolate over dowel to coat. Sprinkle some of the remaining cereal over the dowel to coat. Let stand until chocolate is set or chill to quickly set. Insert dowel into cake.
Watch the recipe video here:
No bowl required! Layered Cereal Cake recipe GET THE RECIPE: http://ow.ly/sAbM30iHGY3 (via Better Homes & Gardens)

Posted by MyRecipes on Tuesday, March 12, 2019