Oreo™ Slab Pie
This easy cookies & cream slab pie is perfect for those summer backyard picnics.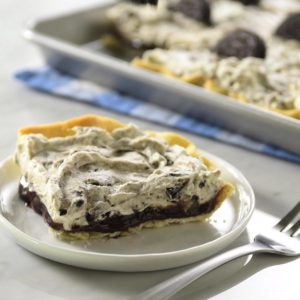 Ingredients
1 box Pillsbury™ refrigerated pie crusts, softened as directed on box
1 jar (16 oz) hot fudge topping (2 cups)
1½ cups heavy whipping cream
1 package (8 oz) cream cheese, softened
⅓ cup sugar
½ teaspoon vanilla
16 Oreo™ cookies, coarsely crushed
8 Oreo™ cookies, halved
Instructions
Heat oven to 450°F. Remove pie crusts from pouches. Unroll and stack crusts on lightly floured surface. Roll to 17x12-inch rectangle. Fit crust into ungreased 15x10x1-inch pan, pressing into corners. Fold crust even with edges of pan. Flute or crimp edges. Prick crust several times with fork.
Bake 10 to 12 minutes or until golden brown. Cool completely, about 30 minutes. Carefully spread hot fudge evenly on crust. Set aside.
Meanwhile, in medium bowl, beat whipping cream with electric mixer on high speed until stiff peaks form. Set aside.
In large bowl, beat cream cheese, sugar and vanilla with electric mixer on medium speed until smooth and creamy.
Gently fold whipped cream into cream cheese mixture. Fold in crushed cookies.
Spoon cream cheese mixture evenly over hot fudge. Refrigerate 1 hour. Garnish with halved cookies. Cover and refrigerate any remaining pie.
Watch the recipe video here: