Cinnamon Swirl Apple Pie
Get mesmerized with this swirly cinnamon pie, filled to the brim with cinnamon sugar coated apples. A fun spin on your traditional apple pie and just as easy to make, if not easier! Serve warm with your favorite creamy vanilla ice cream.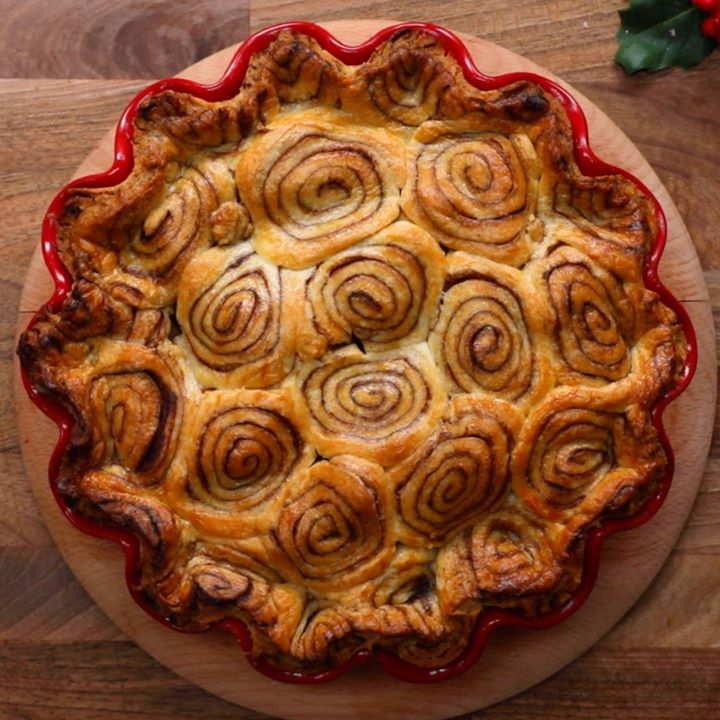 Ingredients
2 refrigerated pie crusts
2 tbsp unsalted butter, melted
4 tsp ground cinnamon
8 cups Granny Smith apples peeled, cored, thinly sliced
¾ cup sugar
1 tsp cinnamon
3 tbsp flour
Egg wash
Instructions
Pre-heat oven to 180ºC (350ºF).
Roll out one pie crust. Brush with melted butter and sprinkle evenly with cinnamon. Roll tightly into a log. Cut into ¼" rounds. Repeat with second pie crust.
Place half of the rounds in a greased pie dish and press to adhere and attach to form a crust right to the edges of the pie dish. Brush with egg wash and set aside.
Toss apples with sugar, cinnamon, and flour until coated. Place apples into prepared crust.
Place remaining cinnamon swirl rounds in a circle in-between two pieces of parchment paper. Roll out to ¼" thick and place on top of the apples. Press edges to seal and cut any excess pie crust. Brush the top evenly with egg wash and cut a small X in the center of the pie.
Bake for 45 minutes until apples are cooked through and crust is golden brown.
Serve with vanilla ice cream. Enjoy!
Watch the recipe video here:
Cinnamon Swirl Apple Pie

Posted by Twisted on Monday, December 25, 2017