Cream Puff Surprise Cake
Velvety mousse is interrupted by little bursts of cream puff YUM.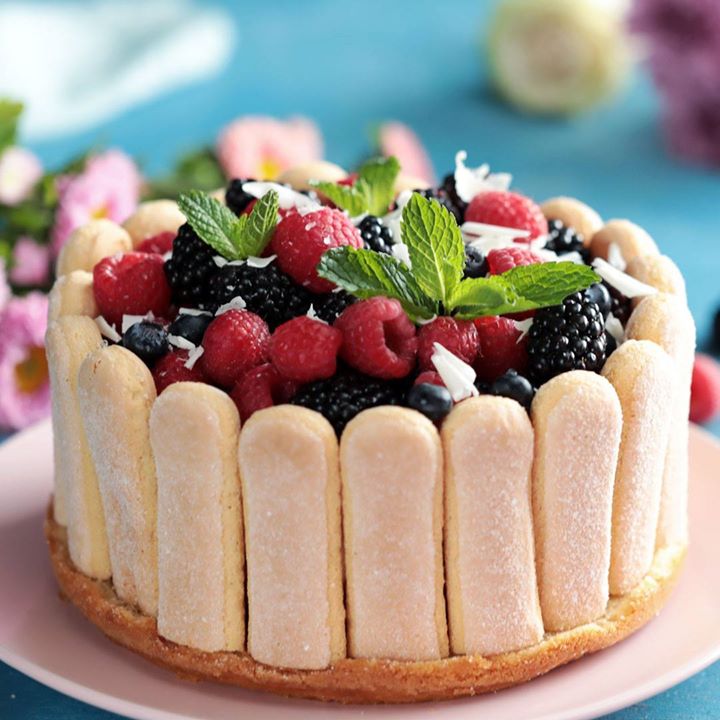 Ingredients
8-inch yellow box cake, baked
12 to 16 ladyfingers
10 to 12 profiteroles
1 box vanilla pudding
Food coloring, as desired
12 ounces white chocolate
⅓ cup water
1½ packets gelatin
3¾ cups heavy cream, divided
Fresh berries, for garnish
Fresh mint, for garnish
White chocolate shavings, for garnish
Instructions
Line an 8-inch springform pan with a ½-inch slice of yellow cake, and place ladyfingers in a circle around the outside edge of the cake.
Place profiteroles on a sheet tray. Make pudding according to package directions and tint to desired color. Fill the cream puffs and set them inside the cake pan.
For the white chocolate mousse: Melt the white chocolate in a double boiler.
While the chocolate is melting, pour the gelatin over the water and let it dissolve. Bring one cup of hot cream to a boil and whisk in the gelatin until smooth. Pour the gelatin mixture into the white chocolate and gently mix until incorporated. Allow to cool to room temperature.
Using a stand mixer, whip the remaining heavy cream to stiff peaks. Fold the cooled white chocolate mixture into the whipped cream.
Pour the mousse over the profiteroles, and set in the refrigerator for about an hour, then top with plastic wrap and allow to set for at least 8 hours or up to overnight.
When set, remove from fridge, top with berries, mint and white chocolate shavings. Serve chilled.
Watch the recipe video here:
Velvety mousse is interrupted by little bursts of cream puff YUM.Taste for Yourself: https://taste.md/2s1HQCK

Posted by Tastemade on Wednesday, May 23, 2018