Galaxy Space Time Cupcakes
Houston, we're sending this chocolate cupcake to space.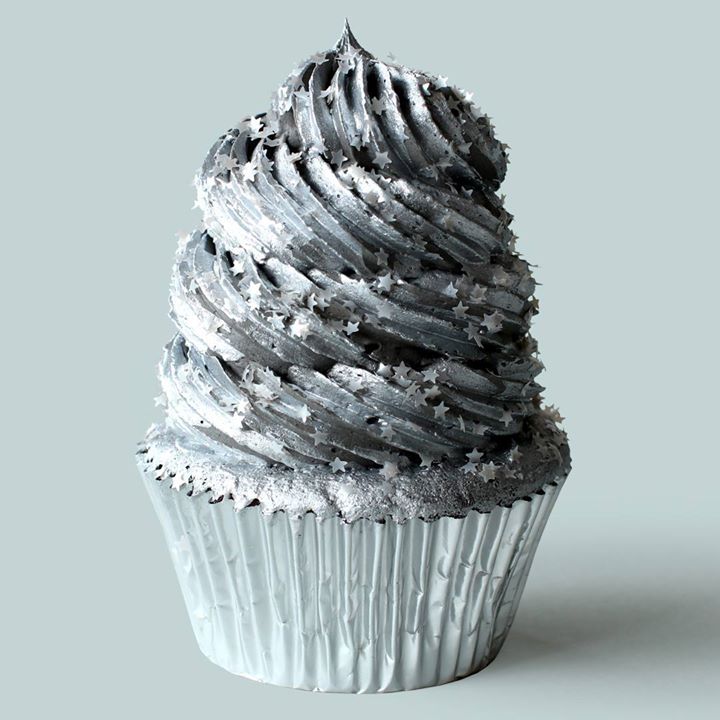 Ingredients
Cupcakes
50g cocoa powder
175g all-purpose flour
½ tsp salt
½ tsp bicarbonate of soda
225g caster sugar
175g unsalted butter, softened
2 large eggs, at room temperature
175ml milk
Frosting
1 batch chocolate Swiss meringue buttercream frosting
5 drops black food gel
Instructions
Decorations
tbsp silver lustre dust + 4 tbsp clear alcohol or vanilla extract
silver star sprinkles to decorate
Preheat a fan-forced oven to 160C (320F) or 180C (356F) for a conventional oven. Line a cupcake tin with silver foil cupcake liners. I got mine from my local cake supply store but you can grab them online. The silver liners are important to the recipe in order to complete the silver cupcake look.
In the bowl of a stand mixer fitted with the paddle attachment, add the cocoa powder, plain flour, salt, bicarb soda and sugar. Turn mixer on low speed and allow it to mix for a couple minutes to help everything combine well! (alternatively you may do this by sifting the ingredients together). Add the softened butter there is no butter visible and it's well incorporated into the dry.
Next, add milk and eggs in a jug and whisk until well combined.
Add wet ingredients to dry ingredients in a slow and steady stream until no dry ingredients are visible. Scrape down the bowl and mix for another 20 seconds.
Fill each paper ¾ of the way (using an ice cream scoop to transfer the batter into the cupcake liners makes this a quick and easy process otherwise you can use two tablespoons). Bake for 30 min or until a toothpick inserted comes out clean. Allow them to cool completely on a wire cooling rack before frosting.
To prepare the frosting add black food gel to the chocolate buttercream and mix until well combined. It should come out a dark grey.
Fit the end of a piping bag with a Wilton 8B piping tip and frost a swirl of frosting on top of your cupcakes. Chill them in the fridge for an hour so the frosting stiffens up.
Add the silver lustre dust and alcohol to a small mixing bowl and mix until well combined.
Use a small paint brush to brush the chilled frosting with random strokes of the silver paint. Finish with a sprinkle of silver star sprinkles.
Watch the recipe video here:
Houston, we're sending this chocolate cupcake to space.Taste for Yourself: https://taste.md/2s1GFTQ

Posted by Tastemade on Wednesday, May 23, 2018