Jam-Topped Mini Cheesecakes
We turned cheesecake into irresistible bite-sized snacks. Feel free to swap in any favorite flavor of jam.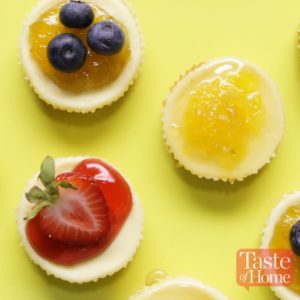 Ingredients
⅔ cup graham cracker crumbs
2 tablespoons butter, melted
1 package (8 ounces) cream cheese, softened
⅓ cup sugar
1 teaspoon vanilla extract
1 large egg, room temperature
3 tablespoons assorted jams, warmed
Instructions
In a small bowl, combine graham cracker crumbs and butter. Press gently onto the bottom of 9 paper-lined muffin cups. In another small bowl, beat the cream cheese, sugar and vanilla until smooth. Add egg; beat on low speed just until combined. Spoon over crusts.
Bake at 350° for 15-16 minutes or until centers are set. Cool for 10 minutes before removing from pan to a wire rack to cool completely. Refrigerate for at least 1 hour.
Remove paper liners; top each cheesecake with 1 teaspoon jam.
Watch the recipe video here: