Pulled Pork-Stuffed Milk Buns
Pulled Pork-Stuffed Milk Buns recipe.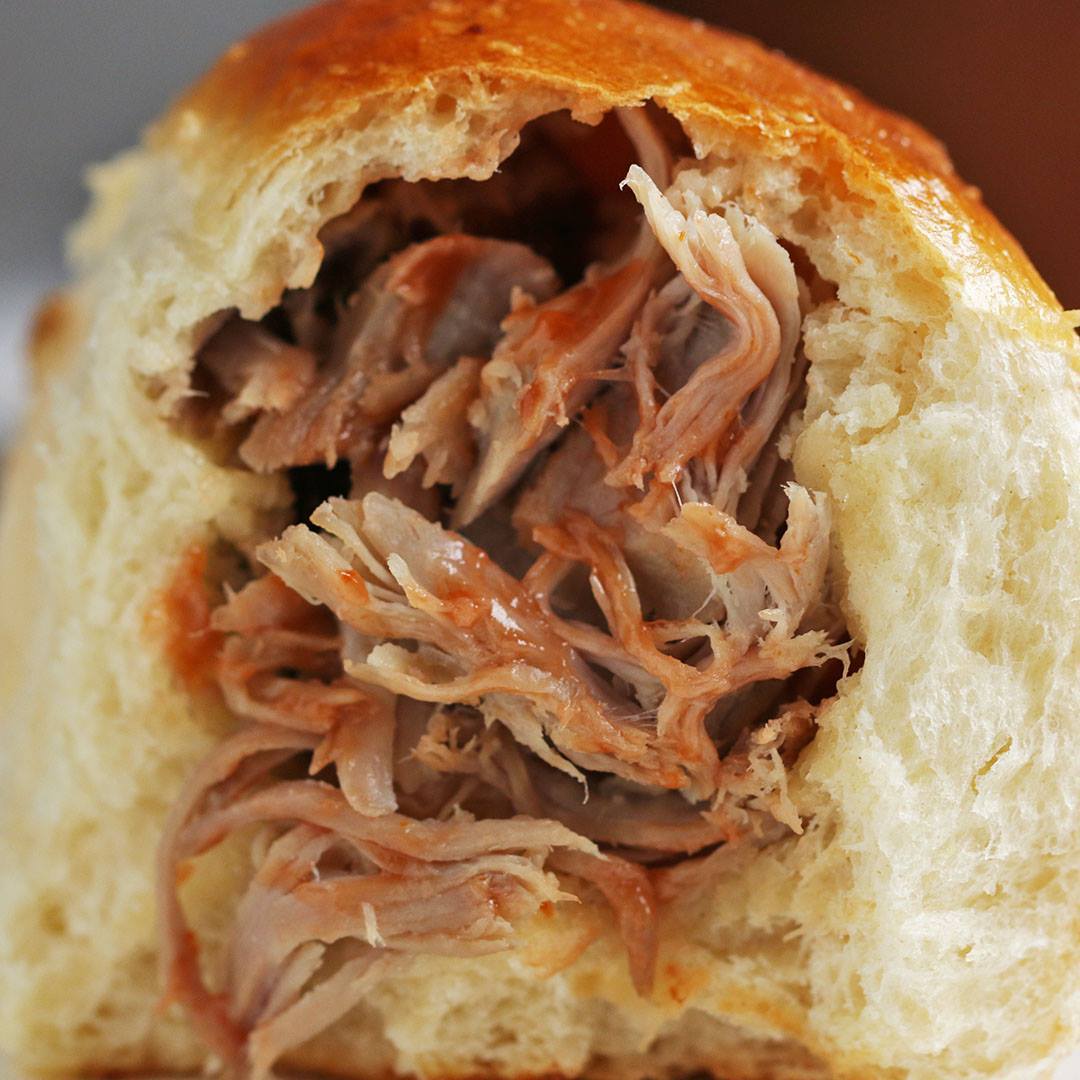 Ingredients
1 large egg, mixed with 1 tablespoon milk
1 ¼ cups pulled pork (310 g)
STARTER
3 tablespoons water
3 tablespoons whole milk
2 tablespoons bread flour
DOUGH
3 ¼ cups bread flour, divided (390 g)
¼ cup sugar (50 g)
1 teaspoon salt
1 tablespoon instant yeast
1 cup whole milk, warm to the touch (240 mL)
¼ cup unsalted butter, ½ stick, melted (60 g)
1 large egg
1 tablespoon vegetable oil
Instructions
Make the starter: In a small pot over low heat, combine the water, milk, and flour. Stir continuously until a loose paste forms. Remove the pot from the heat and transfer the mixture to a small bowl. Cover with plastic wrap, pressing it directly onto the surface of the starter, and refrigerate for 1 hour, or until cool.
Make the dough: In a large bowl, add 2½ cups (300 g) of flour, the sugar, salt, and yeast, and whisk to combine.
In a large measuring cup, whisk together the milk, egg, butter, and chilled starter mixture.
Gradually pour the milk mixture into the bowl of dry ingredients, using your hands to combine. The dough will be very sticky at this point. If the dough is too wet to knead, gradually add ¾ cup (90 g) of flour, a few tablespoons at a time, until you can knead the dough into a loose ball. Continue to knead the dough for 20 minutes.
Cover your hands with the vegetable oil and form the dough into a taut ball. Place the dough into a clean large bowl. Cover with a towel and let rise in a warm place until doubled in size, 60-90 minutes.
Transfer the dough to a clean surface and press out to a 9-inch (23 cm) square. Divide the dough into 9 equal squares.
Flatten a portion of dough into a circle. Place 2 tablespoons of pulled pork in the center. Pinch the edges of the dough together to seal. Gently roll the dough into a ball and place in a greased 9-inch (23 cm) square baking dish. Repeat with the remaining dough. Cover with a towel and let rise for 45 minutes.
Preheat the oven to 350˚F (180˚C).
In a bowl, whisk together the egg and milk.
Brush the buns with the egg wash.
Bake the buns for 25 minutes, or until golden brown.
Let the buns sit in the pan for 10 minutes.
Invert the buns onto a serving plate, and pull apart.
Enjoy!
Watch the recipe video here:
Milk buns with a savory surprise inside! ?FULL RECIPE: https://tasty.co/recipe/pulled-pork-stuffed-milk-bunsTake our survey about your groceries habits: https://bit.ly/2xPuJdd

Posted by Tasty on Saturday, June 9, 2018