Summer Birthdays Need Ice Cream Cakes and What Better Than an Oreo Cookies & Cream!
Finding the perfect ice cream cake has only been a problem for myself. I always thought I could make one way better than the grocery stores generic flavors. So I made the ultimate Oreo cake and it was actually pretty easy! This simple yet over the top ice cream cake starts with a light and chocolatey devil's food cake and then layers of smooth vanilla ice cream, crunchy oreos and chocolate fudge! Make any summer party into an occasion by trying this Oreo Ice Cream Cake!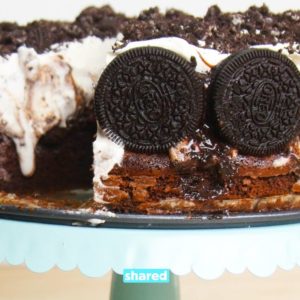 Ingredients
1 box devils food cake mix + eggs, oil, water
2 Bags Original Oreos
2L tub Vanilla ice cream
2 cups chocolate fudge sauce
8 oz cool whip
1 cup milk
Instructions
Line 10 inch spring mold pan with parchment.
In a large bowl mix cake mix, eggs, oil and water.
Pour into spring mold and bake as per box instructions and allow to cool before continuing. Soak 1 bag of oreos in milk and line rim of pan in a single file(a few at a time, for no more than 30 sec).Spread half the ice cream in an even layer.
Crush 1 bag of oreos, reserve ¼ of the oreos and place the rest in a medium bowl, add 1 cup of fudge sauce and mix until combined.
Spread mixture on top of the ice cream.
Spread in the rest of the ice cream on top.
Spread whip topping and sprinkle remaining crumbled cookies and drizzle the remaining fudge sauce on top.
Place back in freezer for 1 hour to set up.
Watch the recipe video here: