Roasted Cabbage
Delicious, roasted cabbage! I apologize for not having a measurement for you! I do not typically measure. If anybody tries this and would like to give tips on measurements, please feel free!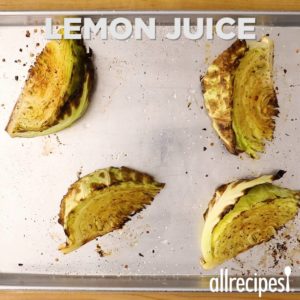 Ingredients
2 tablespoons extra-virgin olive oil
½ head green cabbage, cut into 4 wedges
1 pinch garlic powder, or to taste
1 pinch red pepper flakes, or to taste
salt and ground black pepper to taste
2 lemons, halved
Instructions
Preheat oven to 450 degrees F (230 degrees C).
Brush both sides of each cabbage wedge with olive oil. Sprinkle garlic powder, red pepper flakes, salt, and pepper over each wedge. Arrange wedges on a baking sheet.
Roast in the preheated oven for 15 minutes; flip cabbage and continue roasting until browned and charred in some areas, about 15 minutes more. Squeeze lemon over each wedge.
Watch the recipe video here: