Korean Fried Chicken
You don't know crispy fried chicken until you've tried this Korean fried chicken. Our smitten test kitchen team even deemed this some of the best fried chicken they'd ever experienced. The secret to the chicken's incredible, light and crisp exterior comes down to two key details: the potato starch used to coat the chicken and the double-fry method (trust us on this one—it works). Between the delightfully crackly texture, the aromatic flavor worked into the chicken via its ginger-salt rub, and the dynamic heat of the gochujang sauce, this Korean fried chicken is guaranteed to impress. While we loved this recipe for chicken wings and drumsticks, you could use the technique for other pieces of the bird, like breasts and thighs; you'll just need to adjust your cooking time to accommodate more substantial cuts.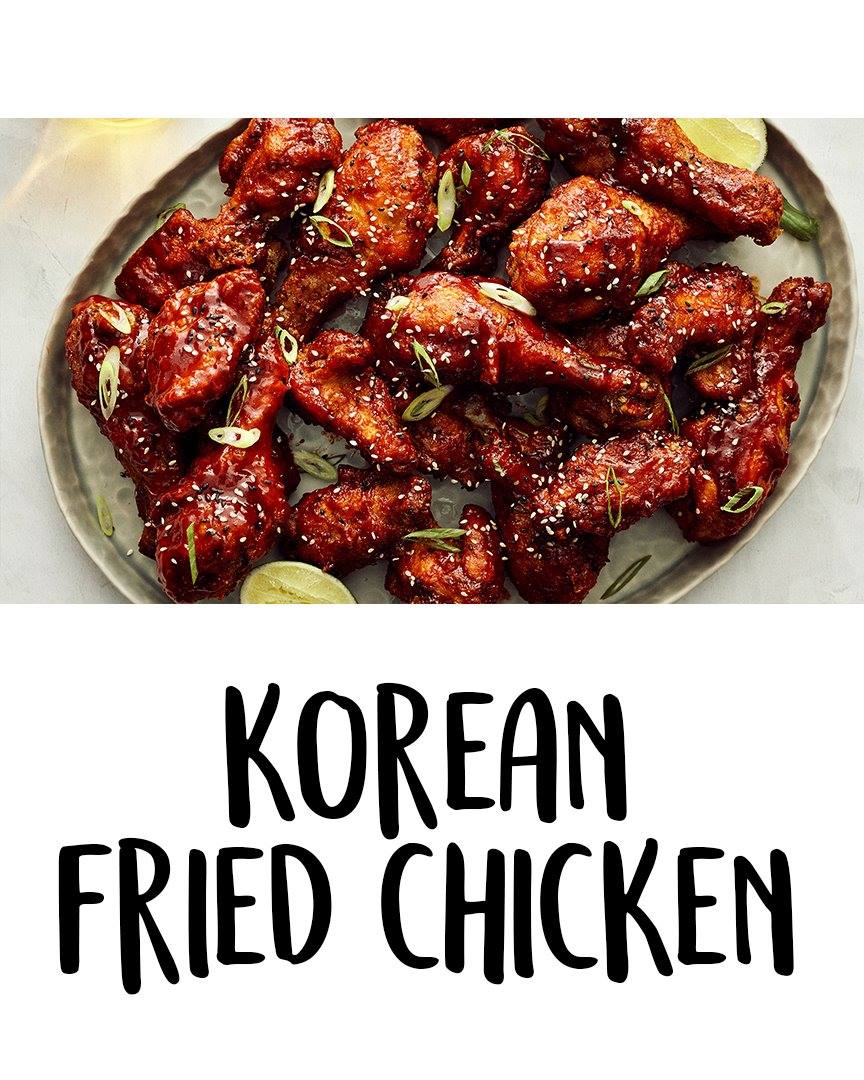 Ingredients
CHICKEN
3 cups canola, grapeseed, or peanut oil, for frying 3¾ pounds chicken drumsticks OR chicken wings, tips removed and wing flats separated 2 tablespoons grated fresh ginger 2 teaspoons kosher salt 1 cup potato starch, divided
SAUCE
½ cup gochujang ¼ cup oyster sauce 3 tablespoons mirin (sweet sake) 2 tablespoons ketchup 1 tablespoon fish sauce 2 teaspoons grated garlic (about 3 garlic cloves) 1½ teaspoons white sesame seeds 1½ teaspoons black sesame seeds
Instructions
Prepare the Chicken: Preheat oven to 200°F. Pour oil into a large cast-iron skillet, and fit with a candy thermometer. Heat over medium-high until thermometer reaches 375°F.
Toss together chicken, ginger, and salt in a large bowl until evenly coated. Place ½ cup of the potato starch in a shallow dish. Working with 1 piece of chicken at a time, place in starch, and toss to coat completely and evenly. Tap off excess, and place on a baking sheet. Repeat with remaining chicken.
When oil is ready, place about 6 pieces of chicken in hot oil; fry until lightly golden, about 2 to 3 minutes. Flip chicken, and fry another 2 to 3 minutes. Transfer to a baking sheet lined with a wire rack. Repeat with remaining chicken.
When all chicken has been fried once, return chicken, in batches, back to oil to fry again, about 2 minutes per side. Place finished chicken on a separate baking sheet lined with a wire rack, and place in preheated oven to keep warm. Repeat with remaining chicken.
Prepare the Sauce: Stir together gochujang, oyster sauce, mirin, ketchup, fish sauce, and garlic in a medium bowl. Toss chicken with desired amount of sauce, and serve immediately. Sprinkle with sesame seeds.
Watch the recipe video here: