Greek Pork Chops with Squash and Potatoes
One sheet and dinner is done, thanks to Greek Pork Chops, squash and potatoes.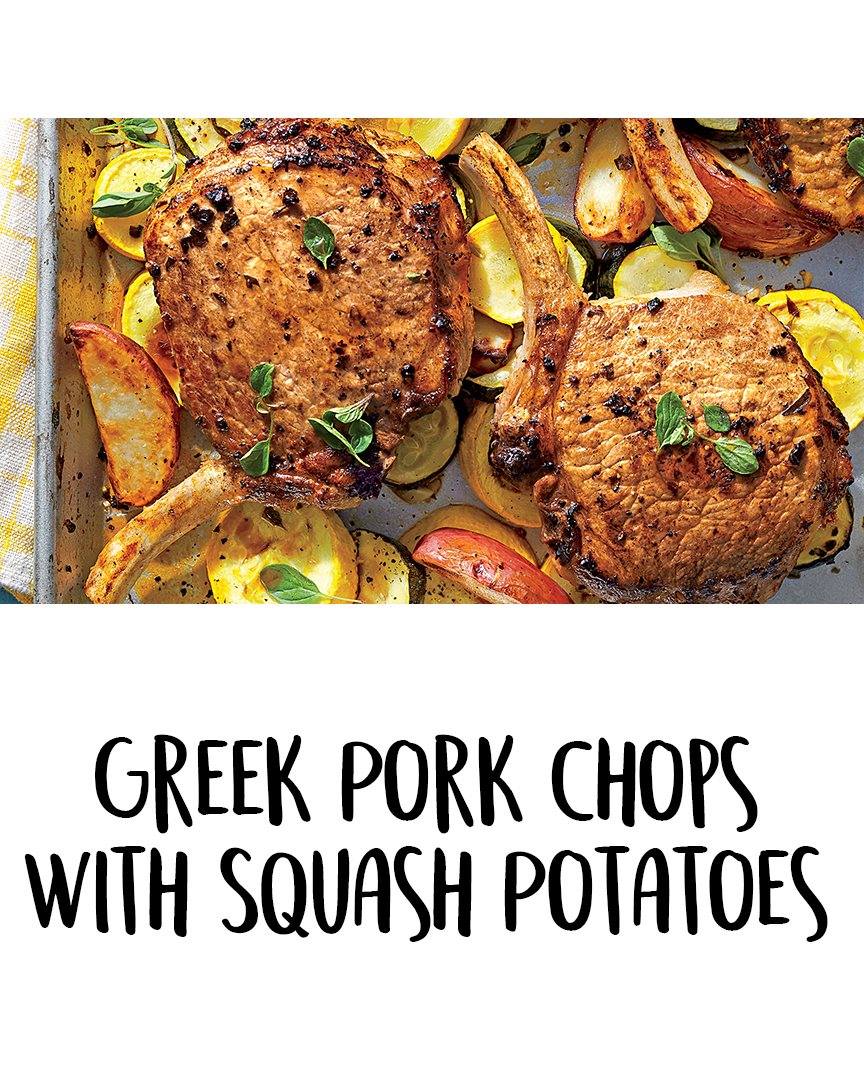 Ingredients
4 (1-inch-thick) frenched pork loin chops
½ cup fresh lemon juice
4 tablespoons olive oil
3 garlic cloves, minced
3 tablespoons chopped fresh oregano
1 teaspoon black pepper
3 teaspoons kosher salt, divided
2 medium yellow squash, sliced
½ inch thick
1 large zucchini, sliced
½ inch thick
½ pound small red potatoes, quartered
Instructions
Place pork chops in a 13- x 9-inch baking dish. Whisk lemon juice, oil, garlic, oregano, pepper, and 2½ teaspoons salt; reserve 2 tablespoons marinade. Pour remaining marinade over pork, turning to coat. Chill 1 to 8 hours.
Preheat oven to 425°F. Combine squash, zucchini, potatoes, and reserved marinade. Spread squash mixture in an even layer on a heavy-duty aluminum foil-lined rimmed sheet pan.
Remove pork from marinade, discarding marinade. Pat dry with paper towels, and place on top of squash mixture.
Bake 25 minutes. Increase temperature to broil, and broil until a meat thermometer inserted into thickest portion registers 140°F, about 5 minutes. Transfer pork to a serving platter, and cover with foil. Return pan to oven, and broil squash mixture until slightly charred, 3 to 4 minutes. Transfer squash mixture to a serving bowl; toss with remaining ½ teaspoon salt, and serve with pork.
Watch the recipe video here: