Rotel Potatoes Aligots
This is a marriage of two of the greatest comfort foods of our time: Rotel dip and mashed potatoes. We're talking very satisfying and suuuuuuper-rich. This would be great served with a protein like pork chops, but you can also add a little milk to turn this into a dip. This method of mashing potatoes essentially emulsifies whole butter into hot potatoes, and it's important that you work quickly and don't let the potatoes get too cool. The potatoes will continue to break down as you add the butter, so don't overmash them.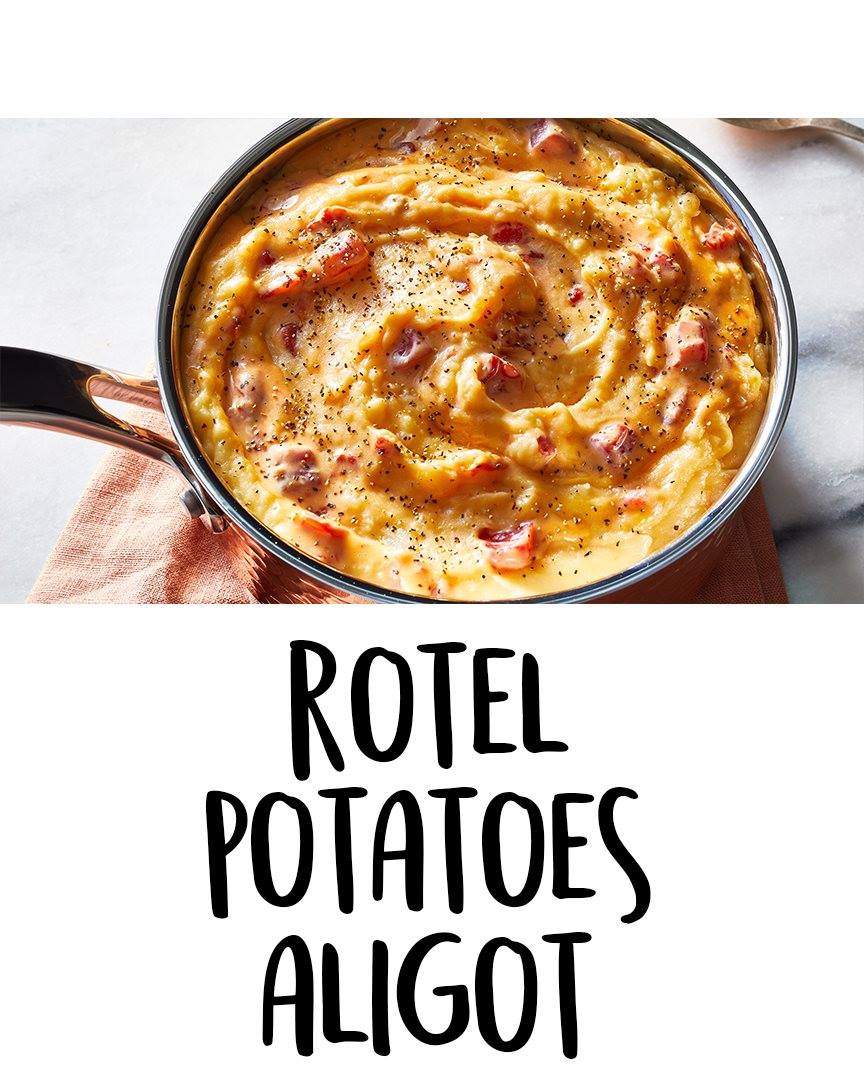 Ingredients
2½ pounds russet potatoes, peeled and halved lengthwise
1 bay leaf
1½ cups (12 oz.) unsalted butter, cubed
1 Tbsp. plus 1 tsp. kosher salt
1 pound processed cheese (such as Velveeta), cubed
1 (10-oz.) can diced tomatoes and green chiles (such as Rotel), undrained
Instructions
Place potatoes and bay leaf in a large saucepan; add water to cover by 2 inches. Bring to a boil over high; reduce heat to medium, and simmer until tender, 23 to 25 minutes. Drain well in a colander; discard bay leaf. Return potatoes to pot. While still very hot, mash potatoes to a smooth consistency. Stir in butter and salt using a potato masher or whisk.
While potatoes boil, microwave cheese and tomatoes in a large microwavable bowl on HIGH 3 minutes. Stir well. Continue microwaving on HIGH until cheese is melted, 30 to 60 seconds. Stir until smooth.
Swirl cheese mixture into mashed potatoes; serve immediately.
Watch the recipe video here: