Cheeseburger Lasagna
Cheeseburger Lasagna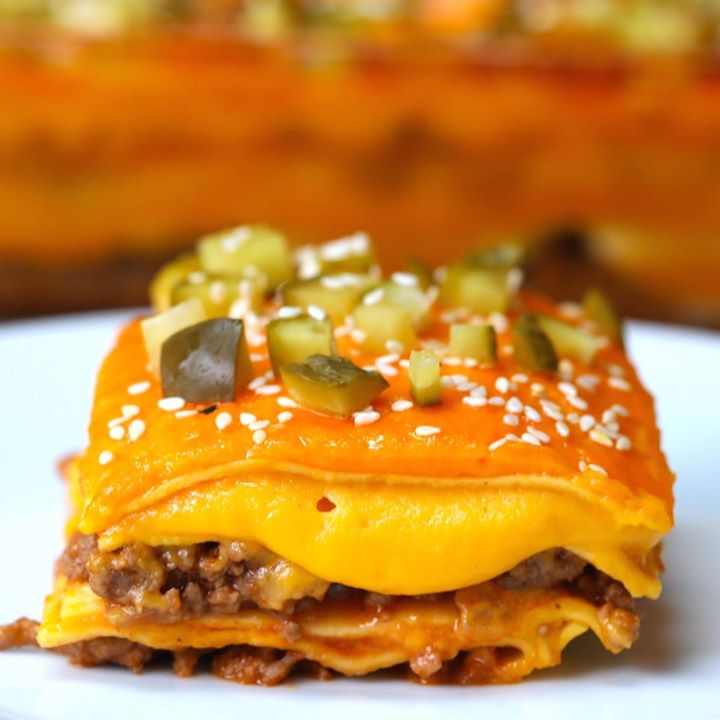 Ingredients
2 tsp oil
2 small white onions, diced
1 lb ground beef
1½ tsp salt
1 tsp pepper
1 tsp garlic powder
½ cup passata
¼ cup ketchup
3 cups bechamel
450g yellow cheddar cheese, grated
8 large fresh lasagna sheets
Chopped gherkins
Sesame seeds
Instructions
Preheat oven to 180C (350F).
In a large saucepan over medium heat, add oil to pan and onions. Cook until translucent, about 5 minutes.
Add ground beef, breaking apart with a spoon. Cook until browned and just dry. Add passata, ketchup, salt, pepper, and garlic powder. Stir to combine and bring to a boil. Turn down to a simmer and cook for 5 minutes to reduce. Take off heat and cool completely.
Add béchamel to a pot over medium heat. Add 350g cheddar cheese and stir until completely melted, take off the heat and cool.
In a 11×13-inch deep baking dish, add a layer of beef mixture. Top with two lasagna sheets followed by a layer of cheesy béchamel, two more lasagna sheets, beef mixture, two more lasagna sheets, cheesy béchamel and two final lasagna sheets.
Top with remaining grated cheese evenly.
Cover with foil and bake for 25 minutes. Remove foil and bake for another 10 minutes. Grill cheese on top if necessary.
Sprinkle with chopped gherkins and sesame seeds.
Slice and enjoy!
Watch the recipe video here:
Cheeseburger Lasagna

Posted by Twisted on Wednesday, October 4, 2017