Cheesecake Stuffed Cupcakes
Now you don't have to choose between your two favorite desserts.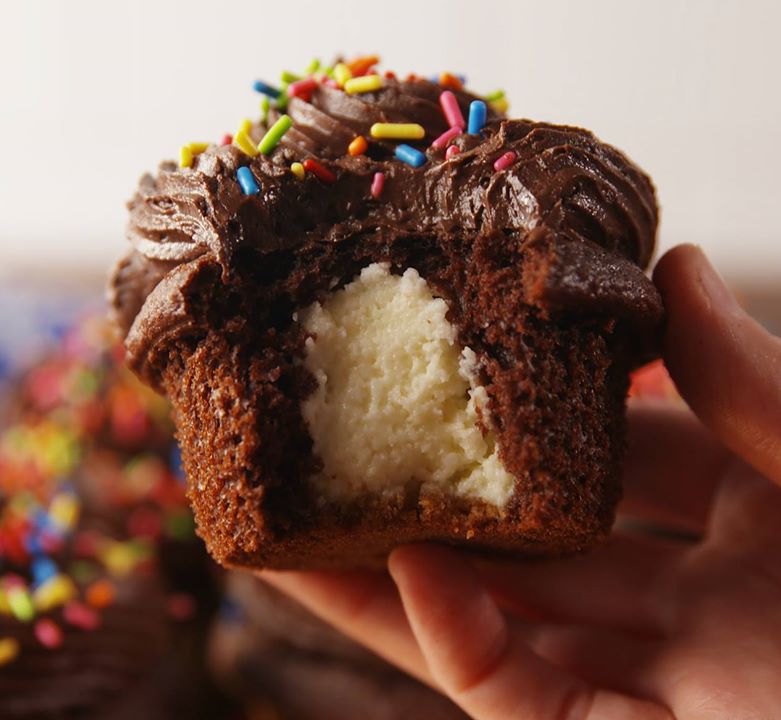 Ingredients
1 box chocolate cake mix, plus ingredients called for on box
12 frozen, plain 1" cheesecake squares
1 c. unsalted butter, softened
2½ c. powdered sugar
¾ c. cocoa powder
2 tsp. vanilla extract
Pinch kosher salt
¼ c. heavy cream, plus more if needed
Rainbow sprinkles, for decoration
Instructions
Preheat oven to 350° and line a 12-cup muffin tin with cupcake liners.
In a large bowl, prepare cupcake batter according to package directions. Fill half the muffin tin with batter, then place a piece of cheesecake in the center. Cover with more batter and bake for 25 minutes. Let cool completely.
Meanwhile, make frosting: In a large bowl using a hand mixer, beat butter, powdered sugar, cocoa powder, vanilla, and salt until light and fluffy. Beat in heavy cream (adding more by the tablespoon until consistency is creamy but can hold peaks).
Pipe cupcakes with frosting and decorate with rainbow sprinkles.
Watch the recipe video here: