Galaxy Mirror Glazed 'Box' Cake
Galaxy Mirror Glazed 'Box' Cake recipe.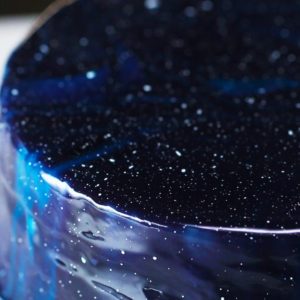 Ingredients
CAKE
2 chocolate cake mixes, 2 boxes, prepared according to package
VANILLA BUTTERCREAM
2 cups butter (460 g), softened
2 teaspoons vanilla
1 tablespoon milk
6 cups powdered sugar (720 g)
GALAXY MIRROR GLAZE
1 ¼ cups water (300 mL)
1 ½ cups sugar (300 g)
15 oz sweetened condensed milk (395 g), 1 can
15 sheets gelatin
26 oz white chocolate (740 g), chopped, over 30% cocoa butter
FOOD COLORING
black food coloring
navy blue food coloring
light blue food coloring
purple food coloring
pink food coloring
white food coloring
Instructions
Prepare the cakes according to the package, or use your favorite cake recipe.
To make the buttercream, mix the butter, vanilla, milk, and powdered sugar in a bowl with a hand mixer.
Once the cakes are baked and cooled, place one cake on a turntable. If you don't have one, you can use a plate. Slice the top off the cakes to create a flat surface.
Place a large dollop of the buttercream on the cake and spread to create an even middle layer of frosting.
Place the second cake over the layer of buttercream.
Frost the entire cake to create the crumb layer, creating a smooth surface.
Place the cake in the freezer to keep cold.
For the glaze, boil the water, sugar, and condensed milk in a pot for 1 minute, then remove from heat.
Bloom the gelatin in 8 cups (2 liters) of cold water for 5 minutes, then wring the gelatin sheets of excess water and mix into the sugar mixture.
Pour the sugar mixture over the chocolate, letting it sit for 2-3 minutes to allow the chocolate to soften.
Using an immersion blender, carefully blend the chocolate and the liquid, making sure that you are not blending in air bubbles by lifting up the blender too high.
Pour the glaze through a sieve into a large bowl to remove any excess bubbles.
Separate the glaze into 5 different bowls (one medium-sized bowl and four smaller bowls).
Color the biggest bowl of glaze with black and navy blue food coloring, stir the coloring with the glaze until the color is distributed evenly.
In the next bowl, add the navy blue food coloring and stir.
In the next bowl, add the lighter blue food coloring and stir.
In the next bowl, add the purple food coloring and stir.
In the next bowl, add the pink food coloring and stir.
When you are ready to use the glaze, make sure each one is around 90-96°F (32-35°C). Microwave if necessary. Pour the colored glazes back into the biggest bowl of black and blue glaze. Swirl them gently with a spoon.
Place the cake on a stand over a sheet tray to catch any excess glaze. Carefully pour the glaze over the cake.
Dip a brush into the white food coloring and fling it onto the cake to create stars.
Enjoy!
Watch the recipe video here:
This galaxy cake is out of this world ?Get the recipe: https://tasty.co/recipe/galaxy-mirror-glazed-box-cake

Posted by Tasty on Tuesday, June 4, 2019