Cinnamon Swirl Topped Apple Cake
This Cinnamon Roll Apple Cake is a showstopper. When you can't decide what you want for dessert, might as well combine two of the favours, apple cake and cinnamon rolls!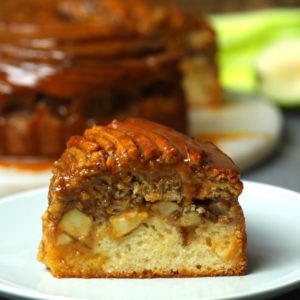 Ingredients
Dough:
½ cup milk, warmed
¼ cup sugar
1 tbsp active dry yeast
¼ cup unsalted butter, softened
1 large egg
¼ tsp salt
2 ¼ cups all-purpose flour, plus more for rolling
½ cup butter, softened
½ cup brown sugar
3 tsp cinnamon
Apples:
6 granny smith apples, peeled and chopped
4 tbsp flour
2 tbsp cinnamon
½ cup brown sugar
Cake:
1 box vanilla cake mix
2 large eggs
160ml water
60ml oil
Caramel sauce, warmed slightly
Instructions
Preheat oven to 180ºC. Line a springform pan with butter and parchment paper.
In a large bowl, add milk, sugar and yeast. Whisk together and let sit for 5 minutes until frothy.
Add butter and egg to the yeast mixture and whisk to combine. Add in the salt and flour, stirring with a wooden spoon until combined.
Place dough onto a floured surface and dust with flour. Knead a few times until it comes together into a smooth ball. Transfer to a greased bowl and cover with a towel or cling film. Let rest and rise in a warm place for about 30 minutes.
Meanwhile, mix together apples, flour, cinnamon and brown sugar and toss to combine.
Mix the vanilla cake mix with eggs, water and oil until smooth. Pour into the cake tin, top with the apples.
Punch down the dough, roll out into a large rectangle. Spread butter all over. Mix brown sugar and cinnamon together, shake over butter and spread out. Cut dough into 1-inch strips. Roll one strip into a spiral.
Place spiral on top of the apples in the middle. Take remaining strips of dough and wrap spiral repeating until finished.
Bake for 45 mins - 1 hour until the cinnamon roll is cooked and golden brown. Cover with foil if browning too quickly.
Remove from the cake tin. Pour caramel sauce over cinnamon swirl.
Slice and serve, enjoy!
Watch the recipe video here: